U.S. Senator Tammy Baldwin Joins Calls For USDOJ Investigation Of Wisconsin Economic Development Corporation (WEDC), Oneida Seven Generations Corporation, Green Bay Renewable Energy, Oneida Energy Inc., & Green Box NA Green Bay; Plus, Stranger Than Fiction: Attorney Ty C. Willihnganz' Letter To Wisconsin Office Of Lawyer Regulation Says Green Box Doesn't Pay Employees, That Owner Ron Van Den Heuvel Is "Extremely Abusive" & "Dangerously Cocksure," And That Ron's Wife & Green Box Co-Owner Kelly Van Den Heuvel Engages In Deceit; 12/23/2015 UPDATE: Ron Tells Media That WEDC Won't Let Him Reimburse Funds; Are WEDC & The State Of Wisconsin Concerned That Ron's Funds Are Illegal?
9th
November 2015

Closed
UPDATE [Click the link below for PDFs]: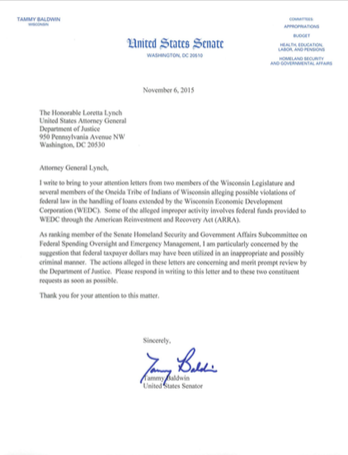 From the November 10, 2015 Wisconsin State Journal:
U.S. Sen Tammy Baldwin is urging the nation's top prosecutor to investigate the Wisconsin Economic Development Corp.'s handling of three separate cases in which taxpayer funds have yet to be repaid.

In a Nov. 6 letter to U.S. Attorney General Loretta Lynch, Baldwin asked aked the U.S. Department of Justice to review a $500,000 WEDC loan to a struggling Milwaukee company, Building Committee Inc., owned by a top donor to Gov. Scott Walker. …

She referenced a letter Wisconsin Democratic lawmakers sent to Lynch after the State Journal investigation. …

Baldwin, a Madison Democrat, also cited a Sept. 21 leter from members of the Oneida Tribe of Indians of Wisconsin calling for an investigation into more than $1.1 million WEDC loaned to Green Box NA Green Bay and $2 million the agency loaned to Oneida Seven Generations Corp.

Both loans are in default, and in the case of Oneida Seven Generations Corp. the state used federal stimulus money, which Baldwin highlighted.

"The actions alleged in these letters are concerning and merit prompt review by the Department of Justice," Baldwin said. …

Detectives with the Brown County Sheriff's Office are investigating Van Den Heuvel for allegedly defrauding WEDC. They seized a truckload of documents from his home and offices in De Pere and Ashwaubenon in July. In warrants the lead detective alleges that Van Den Heuvel misrepresented his product, which Van Den Heuvel denies. No charges have been filed.
Actually, Oneida Tribe members want to know all about Oneida Seven Generation Corporation's $5,680,003 'write-off' regarding the Oneida Energy Inc. & Green Bay Renewable Energy [sic] waste gasification projects associated with Ron Van Den Heuvel and Abdul Latif Mahjoob/ACTI, which is in addition to the $4-plus Million the Oneida Tribe lost with OSGC & Artley Skenandore business-partner Ron Van Den Heuvel on Nature's Way Tissue, in addition to which Ron Van Den Heuvel's Tissue Technology LLC still owes OSGC subsidiary Glory LLC an additional $1.2 Million.
Oneidas also want to know how Oneida Nation High School Principal Artley Skenandore and his company, Swakweko, LLC, were involved in generating millions of dollars of losses to the Oneida Tribe given Artley's role in the failed Nature's Way Tissue, LLC, partnership with Ron Van Den Heuvel, Steven Peters, and Oneida Seven Generations Corp., which was the precursor to – and seemingly part of – the waste gasification scams that Oneida Tribe members and Senator Baldwin have asked the USDOJ to investigate.
All told, over at least $11 Million of Tribal money lost to schemes between OSGC, Artley Skenandore, and Ron Van Den Heuvel, involving $2 Million of federal funds via WEDC from the American Reinvestment & Recovery Act (ARRA) as well as $2 Million in funds from federally-regulated Native American gaming and disbursed from WEDC's predecesor – the Wisconsin Dept. of Commerce. (Click those hyperlinks to see both contracts and their funding purposes for waste energy schemes).
Oneida Tribe members, including Oneida Eye's Publisher, thank U.S. Sen. Tammy Baldwin for acknowledging and supporting the 42 enrolled OTIW members' request for a federal investigation of WEDC and loans to Oneida Seven Generations Corp., Oneida Energy Inc., Green Bay Renewable Energy, Green Box NA Green Bay, and their relationships with American Combustion Technologies Inc., and any links they may have to the Mantria Corp. pyrolysis Ponzi scheme.
[Note: OSGC's and Ron Van Den Heuvel's business associate Abdul Latif Mahjoob has registered a new company in California. American Combustion Technologies, Inc. / ACTI has re-branded itself as American Renewable Technologies, Inc. / ARTI, after ACTI was sued for Fraud.]
11/24/2015 UPDATE:
COURT NOTICE: Contempt Hearing postponed following Brown County Judge Thomas J. Walsh's recusal in Brown Co. Case No. 2015CV769, Dr. Marco Araujo, Cliffton Equities & Wisconsin Economic Development Corp. (WEDC) vs. Ron Van Den Heuvel & Green Box NA Green Bay, LLC
Oneida Eye readers will recall that Judge Thomas Walsh ordered Ron Van Den Heuvel's company Tissue Technology LLC to pay over a million dollars to Tribally-owned Oneida Seven Generations Corporation (OSGC)'s subsidiary Glory LLC back in 2009 which Ron has failed to do.
Brown Co. Case No. 2009CV439, Glory LLC v. Ron Van Den Heuvel & Tissue Technology LLC

Judgment for money:

Amount :

$1,227,880.01

Satisfaction:

NO
Glory LLC was represented in that case by Attorney Jacob Curtis, and Ron Van Den Heuvel by Attorney John Petitjean, as seen in an October 16, 2012 Motion Hearing Transcript.
NOW RON VAN DEN HEUVEL HAS HIRED CRIMINAL DEFENSE ATTORNEY MICHAEL J. FITZGERALD AS COUNSEL IN BROWN CO. CASE NO. 2015CV1614 FOR RETURN OF PROPERTY (most likely that taken due to the Brown Co. Sheriff's Dept.'s Warrants raids of his businesses and his mansion during which they hauled off five truckloads worth of evidence.
Michael J. Fitzgerald's website advertises this way:
Fitzgerald Law Firm is recognized in Wisconsin as a Tier 1 law firm in all three criminal defense categories: non-white collar criminal defense, white collar criminal defense litigation, and white collar government investigations. It is one of only two firms in the state to have achieved a Tier 1 ranking in all three categories.
A far cry from some of Ron's previous Wisconsin attorneys.
On that note, a hearing was held November 20, 1:15 p.m. in Brown Co. Case No. 2015CV1066, Ty Willihnganz, Ty Will Law LLC, Savannah Brault, Jeremy McGown, Evolve MTS LLC, Michael Garsow, Nancy Van Lanen & Meng Qiao for Return of Wrongfully Seized Property
__________________________________
__________________________________
UPDATE 2: Do you want to ask Ron Van Den Heuvel all about his "extremely abusive" treatment of Green Box NA Green Bay employees up close and in person?
This afternoon, the following invitation was sent to the media from RES Publica Group (whose website literally says "we manage reputations"):
From: Steve Patterson mailto:SP@respublicagroup.com
Sent: Monday, November 09, 2015 3:23 PM
To: Steve Patterson
Subject: Green Box
Just a reminder of the opportunity for media to tour Green Box facilities and talk with CEO Ron Van Den Heuvel that is happening tomorrow.
Ron will be available from 4 to 7 p.m. Tuesday at Green Box, 2077-A Lawrence Drive in DePere.
Should you have any questions or want to arrange a specific time, please don't hesitate to contact me.
Thanks –
Steve Patterson
Steve Patterson | Vice President | 312-755-3547
444 N MICHIGAN AVE, SUITE 3600
CHICAGO, IL 60611
http://www.respublicagroup.com/team/steve-patterson
Who knows?
Maybe Ron H. Van Den Heuvel will autograph one of Artley Skenandore's and his Purely Cotton display toilet paper rolls …
just for you!
That is, if he doesn't just extremely abuse you.
But, hey, at least there'll be free rehashed lies!
You have to wonder: Did Ron Van Den Heuvel's attorney John Petitjean (of law firm Hinkfuss, Sickel, Petitjean & Wieting) actually give his 'Okay' for this get-together with the media?
You also really have to wonder if Steven Patterson didn't insist that Ron Van Den Heuvel & Green Box pay for RES Publica Group's services up front & in full – and in cash.
According to Steve Patterson's bio:
Steve Patterson brings two decades of experience in hard-hitting journalism and political and crisis communications counsel to the firm. 
As an award-winning investigative and political reporter at the Chicago Sun-Times and Gary Post-Tribune, Steve's stories triggered dozens of indictments, new state laws and the overturning of two elections.

Most recently, Steve served as Communications Director for Cook County Sheriff Tom Dart, handling countless crisis situations, elevating Dart's profile and improving the office reputation through national coverage, including projects with CNN, Oprah Winfrey, 60 Minutes and MSNBC. Steve is a graduate of Ball State University and member of the Native American Journalists Association [NAJA].
Well, then.
Steve Patterson should be able to have an interesting conversation with Captain David Konrath of the Brown Co. Sheriff's Dept.'s Investigative Division about Ron Van Den Heuvel & Green Box… especially Ron's pending criminal indictments which will certainly qualify as a 'crisis situation.'
And possibly an informative chat with U.S. Attorney General Loretta Lynch, apparently.
UPDATE 3: Ron speaks to the media
Nearly a month ago, search warrants detailed Ron Van Den Heuvel and his recycling company, Green Box, was being investigated for possible theft and securities fraud. Those documents also pointed to a $1.2 million loan from WEDC, awarded in October 2011.

"I now have brought my system to fruition, so I can raise the capital and pay it back," said Van Den Heuvel Tuesday evening during an open house at his De Pere headquarters. "Exactly what it's intended to do."

Van Den Heuvel says his business can turn food-contaminated waste into new or reusable products, like tissue, packing paper, bio-fuel and fertilizer. Van Den Heuvel says the WEDC loan will be paid back within a month. …

Van Den Heuvel would only allow FOX 11's cameras to film some of the process, including the paper pulp making process – the plastic and fuel recovery processes were off limits. …

Late last week, Senator Tammy Baldwin sent a letter to Attorney General Loretta Lynch, urging the review of several WEDC loans, including that of Green Box. It and several others were brought to her attention through two Democratic state legislators and some members of the Oneida Tribe of Indians of Wisconsin.

"Senator Tammy Baldwin is now asking the federal, U.S. Department of Justice, to look into the use of that loan and some of the other monies that have been given to your business," I told Van Den Heuvel. "Do you have any response to that?"

"I – she can do that. Anytime she wants."

The search warrants allege Van Den Heuvel and his company misrepresented themselves to WEDC. Van Den Heuvel has denied the fraud allegations.
Of course he did.
In that November 10, 2015 news video, Ron Van Den Heuvel promises WLUK Fox 11 reporter Bill Miston that he will have paid back WEDC in full in just one month.
Spoiler Alert: The December 23, 2015 update below reports that Ron Van Den Heuvel has not reimbursed WEDC. Mr. Van Den Heuvel now claims that WEDC would not allow him to pay back his debts to WEDC.
Perhaps the WEDC was concerned that Ron Van Den Heuvel might try to reimburse the WEDC with suspect or stolen funds which Ron Van Den Heuvel actually owes to a growing list of litigants who have sued Ron Van Den Heuvel, Green Box NA, and/or Patriot Tissue, including those who've already won foreign judgments against him in the millions of dollars and are now seeking reimbursement through the Wisconsin courts?
__________________________________
11/16/2015 UPDATE:
HAHA! Ron Van Den Heuvel appears in WBAY news report about Kroll's West hamburger joint & tavern holding on to its property near Green Bay Packers' Lambeau Field.
Maybe RES Publica Group set it up for Ron to try to make him look like just a 'regular guy.'
You know. The kind of guy who mysteriously has people dropping off stacks of cash at his house and paying his bills for him on a regular basis and says he hasn't had a banking nor checking account for the last five years.
Ron will gladly pay you Tuesday for a butter burger today! (But would you be willing to accept shares in one of his many companies instead? He's made 74 millionaires!)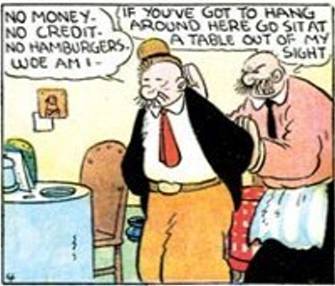 See Ron's mug at the 55 seconds mark:
From our October 15, 2015 post –
More media coverage of Ron Van Den Heuvel's C.Y.A. strategy to defend his con, fraud, and swindle criminal scheme:
_________________________________________
Following the Status Conference held on November 6, 2015, in Brown Co. Case No. 2015CV1066, Ty Willihnganz et al, for "Return of Unlawfully Seized Property" from Brown Co. Sheriff's Dept. Search Warrants carried out at the offices of Green Box NA Green Bay, LLC, a Hearing has been scheduled for November 20, 2015 at 01:15 p.m., Brown Co. Courthouse, 2nd Floor, Room 260.
Also, at 02:30 p.m. on November 20, 2015, there is a rescheduled Contempt Hearing in Brown Co. Case No. 2015CV769, Dr. Marco Araujo, Cliffton Equities & Wisconsin Economic Development Corp. (WEDC) vs. Ron Van Den Heuvel & Green Box NA Green Bay, LLC
…which was the result of Brown Co. Case No. 2013CV463, Dr. Marco Araujo vs. Ronald H. Van Den Heuvel & Green Box NA Green Bay, LLC.
Below are documents of public interest from Brown Co. Case No. 2013CV463, Dr. Marco Araujo vs. Ronald H. Van Den Heuvel & Green Box NA Green Bay, LLC:
Which includes:
June 17, 2014 Deposition of Ty Christopher Willihnganz;
April 10, 2014 Letter from Ty Willihnganz to Wisconsin Office of Lawyer Regulation re: Answer to Complaint Against Ty Willihnganz;
May 28, 2014 Letter from Ty Willihnganz to Judge Donald Zuidmulder re: Motion to Quash Subpoena in Brown Co. Case No. 13CV463, Araujo v. Ronald Van Den Heuvel and Green Box NA Green Bay, LLC
While all of those documents deserve to be read in order to further demonstrate what kind of an outlandish sh¡tshow scam Ron Van Den Heuvel was (is?) running – which the Wisconsin Economic Development Corporation (WEDC) strangely and unquestioningly funded for $1.2 million, along with giving Ron's business associates at Oneida Seven Generations Corporation (OSGC) $4 million for the same waste pyrolysis scam (on which the Oneida Tribe's corporations lost $5.7 million)– we reprint here Ron's former attorney Ty Willihnganz' April 10, 2014 Letter to the WI Office of Lawyer Regulation to give readers a peek into the kind of 'professional atmosphere' that Green Box NA Green Bay, LLC, had to offer, and what kind of 'abusive' and 'deceitful' employers Ron Van Den Heuvel and his wife, Kelly Yessman Van Den Heuvel, were according to their former attorney.
[Some parts bolded for emphasis by the Editors]
April 10, 2014
Kenneth Broderick
Office of Lawyer Reglulation
110 East Main Street
Ste 315
Madison, WI 53703-3383
RE: ANSWER TO COMPLAINT AGAINST TY WILLIHNGANZ
Dear Mr. Broderick:
I will respond to your specific questions at the end of this document, but first I wanted to provide you with an overview regarding my relationship to the client in question [Green Box NA Green Bay, LLC].
OVERVIEW
First of all, I want to point out that the client who I allegedly failed to keep informed has not lodged a complaint against me, and has in fact fought any complaints about my conduct because [Green Box] knows that it created conditions that made it extremely difficult for me to fulfill my legal duties. With that said, let me explain my relationship to the client and what took place.
MY RELATIONSHIP TO THE CLIENT
The client in question is an environmental "waste-to-energy" start-up company (I will refer to the client as the "Company"). I worked for the Company as a contractor doing performing tasks that would traditionally be handled by an in-house counsel. In exchange for my legal services, the Company agreed to provide me with office space, a monthly fee, and full coverage of all bar fees and CLE course tuition. The present problems emerged as a direct result of the Company's defaulting upon its promises. For many months of last year I went without payment of any kind and the client did not produce either my bar fees or my CLE tuition.
The failure to pay me or to cover any of the promised professional costs directly resulted in a suspension of my license in June of 2013 for failure to meet CLE requirements (later the Company would also default on my Wisconsin State Bar annual fees, despite TELLING ME that the fees had been paid). The Company was immediately aware of my suspension when it took place, and I informed the Company owners at that time that I could no longer represent the Company in any litigation and that I specifically needed to be removed from the Marco Araujo case immediately. The client promised me repeatedly that I would be removed from the Araujo case, but this never happened, and I was forced to file a Motion for Withdrawal on August 15th.
MY REQUEST FOR REMOVAL FROM THE ARAUJO CASE AND THE DISCOVERY REQUEST
Between the time of my suspension and the filing of my motion, I performed no acts of legal representation for the Company, but I did constantly remind the Company officials that I needed to be replaced as counsel in the Araujo matter, and that there was an outstanding discovery request in the matter and that the Company needed to produce all of the documents requested by the Plaintiff. Indeed, the Company had known about the document request since the time it was made (I believe in April of 2013 – though the Company disputes this), and I informed all of the relevant Company personnel that the documents needed to be gathered together and sent to Plaintiff's counsel, but no one at the Company took any action in response. It is my belief the Company staff simply categorized the matter as "legal" and therefore expected me to assemble the necessary documents. But the staff knew fully well that I lacked access to, of knowledge of, the records that were being asked for and that I could not possibly comply with the document request without their assistance.
RESIGNATION OF COMPANY STAFF
In the first few weeks of June of 2013, the situation became even more difficult. Not only was I suspended, but shortly thereafter nearly the entire Company staff quit their jobs in response to non-payment of their wages. So the Company was being run by two people, neither of whom had the knowledge necessary to comply with the Plaintiff's document request. So the document demand went unanswered despite my persistent reminders that it needed to be complied with.
MY LOSS OF OFFICE PRIVILEGES
On top of that, after my license was suspended, I lost my office privileges. I was still asked to perform administrative duties and writing assignments for the Company (which I agreed to do only because I knew if I resigned altogether I would never be paid any of the money owed to me) but I no longer had an office. And since I had not received any money for several months, I had no transportation (as it happens the right wheel fell off of my Mercedes – due to shoddy work by AAA, and I was without the means to repair the damage and thus had no vehicle for a substantial period of time – pictures of damage are enclosed) and could only come into work on an irregular basis (it's a 10 mile hike round trip from where I live). Thus, after removing all non-Company related files from my office I had no control over my office nor access to it. Yet despite this I believe someone may have been placing mail in that office and then someone else may have been removing or may have removed it during the transition period (this is speculation – no one can tell me what happened to the correspondence).
COMPANY CONTROL OF MAIL DURING MY ABSENCE
Bear in mind, the Company and I had the same mailing address. This did not cause a problem prior to my suspension and the concomitant Company staff resignations, because I was diligent about protecting my mail. But afterward it did.
As stated, after my suspension and into the early fall of 2013, I could not come into my office everyday because I was not getting paid and had no transportation. It is my believe that during the days I was absent the Company collected all of the mail, including mail addressed to me. I saw some of the mail they collected (if I was in that day, it would go directly to me), but apparently not all of it. Most of what I received after my suspension can be classified as "junk" mail, which is the kind of mail I expected since I had no clients other than the Company. Any mail addressed to me that had any legal consequence would have been mail that also concerned the Company. It's my belief that some of it may have gone directly to company personnel and the rest was piled somewhere. I have not been able to ascertain what happened to the missing parcel, so that is all speculation. And since the Company operations were so understaffed and frankly disorganized, no one has ever provided me with an answer.
That said, any failure by me to communicate with the Company any important notices that might have come by mail, or to keep the Company reasonably informed of information that would have come by mail, would have been directly caused by the Company's misplacement of the correspondence that would have contained that information. Now AGAIN, I do not content that the Company deliberately misplaced the correspondence, but I think it was the accidental by-product of two things: the severe understaffing of the Company which caused a breakdown in the regular mail distribution system, and the fact that someone else was assigned my office, which introduced a transition element. Because of those circumstances, I think the correspondence meant for me may have gotten lost, accidentally misplaced, or accidentally removed. (Note: indeed, several weeks ago I found some of the missing correspondence in the back of a Company storage room in a bank box randomly marked "Ty's Office."). Frankly, the Company had a sort of "get Ty's stuff out of here" attitude.
MOTION FOR WITHDRAWAL IN AUGUST OF 2013
As mentioned, after the Company failed to have me removed as counsel in the Araujo matter (despite several requests by me), I finally had to file a Motion for Withdrawal as counsel in August of 2013. On the date of the filing, I served a copy of my motion on the Plaintiff by US Mail.
I did not want to file the motion without having a replacement to fill my spot, but by August I felt I had waited as long as I could and that I could not wait any longer. Since I never filed such a motion before, I was unaware of the procedure, and erroneously believed I had successfully removed myself by the act of filing the motion (I did not know I also had to draft the Order). Nevertheless, at the very least I believed the motion itself – which states that I was ineligible to practice law – put both the Court and the Plaintiff on notice that I could not serve as counsel for the Company. Therefore I expected that any subsequent correspondence in the Araujo matter would be directed to the Company, not me.
Yet despite having notice that I could no longer practice law and therefore could not serve as counsel for the company, Plaintiff's counsel, Attorney Winston Ostrow, continued to send mail to my attention, including his motions to compel discovery. Had he redirected the mail to the Company instead of sending it to me, none of this would have been lost by the Company, and the Company would have had notice of the motion to compel discovery. On the other hand, had the Company replaced me in when I asked them to back in June, it would have alleviated any confusion as to who represented the Company and would also have prevented any alleged "misconduct" on my part.
ADDITIONAL FACTS
In retrospect, I admit I should have been more persistent in my demand that the Company replace me as counsel immediately after my suspension, and I should have insisted that the Company follow through on my request that it produce the documents for discovery. However, in this regard I must note that the Company owner, who basically has all executive and financial power reserved for himself, is a difficult man to communicate with. Though he is a friend of my father and me, [Ron Van Den Heuvel] can be extremely abusive, and he is dangerously cocksure when it comes to legal matters. Therefore, though he hears everything I advise him of, he tends not to listen to me or react well when I present him with bad news, and he tends to ignore my legal advice and requests when neither interests him. He also tends to break his promises and make counter-factual statements. As a result, he is an extremely difficult person to effectively communicate with or manage from a legal perspective. Though I did my level best on both counts, I am certain that in his mind replacing me on the Araujo matter or complying with my requests for the documents was low priority compared to the raising of funds and the other tasks that go along with keeping the start-up going.
Making matters even more difficult for me, my fee payments were always based upon his whims. I think that made me more timid than I should have been. I want it noted, however, that I had no issues with any of the other "outside" clients I handled during the time period, chiefly because all of them respected my judgment and complied with my advice and requests.
With all that said, I still believe I kept Mr. [Ron] Van Den Heuvel and the Company as informed as I could, and I also think I fulfilled all of my ethical duties to the best of my ability given the circumstances placed upon me by the Company.
SUMMARY
In short, I do not believe I committed misconduct because:
1. I was a quasi "contracted in-house counsel" for the Company. I was allowed to pick up outside clients, but most of my time was spent providing legal services to the Company;
2. As such, my office was inside the Company building and under the Company's control;
3. Accordingly, my mailing address was the same as the Company's address and any correspondence addressed to me went through Company mail distribution channels. After a mass resignation of Company personnel in June of 2013, those channels became far less scattered and unreliable;
4. The Company knew I was suspended in June of 2013 and knew I could no longer represent it in any on-going legal matters, and yet took no action to fulfill my repeated requests to hire replacement counsel in the Araujo matter until January of 2014 (admittedly because of lack of money – but please note I was not being paid);
5. The Company also defaulted on payment of my fees, making it difficult for me to afford to come in to the office on a daily basis and to strictly monitor any correspondence on a daily basis as I normally did when I was actually practicing law. In my absence, the Compnay had total control of my correspondence, including all of the correspondence that went missing.
6. The Company also stripped me of my office after my suspension and removed some of my things from that office without my concent. In doing so, I assume the Company caused the removal and misplacement of crucial Araujo correspondence that may have been deposited there. To support this theory, I recently found a box of my things tucked away in a storage room, and that box contained at least one piece of missing Araujo correspondence. On top of all that, I withdrew myself as counsel by motion filed in August of 2013, before the Plaintiff filed its paperwork for the Motion to Compel hearing. Though my attempted withdrawal was technically unsound ( I did not realize I also had to draft the Court Order myself), the information contained in my Motion should have put the Plaintiff's counsel on notice that I was ineligible to practice law, and that knowledge should have halted any further correspondence to me from them. Had that occurred, there would have been no issue of misconduct, because – as sated above – all correspondence related to the missed Motion to Compel hearing was sent out after I had filed my Motion to Withdraw.
YOUR SPECIFIC QUESTIONS
1. The Araujo Scheduling Conference – After my suspension, as I outlined above, I continued to work for the Green Box Company, writing correspondence and doing administrative tasks (I did not work for Mr. [Ron] Van Den Heuvel personally, though as I noted he ran the Company). For most of the time the staff consisted of just myself, [Ron] Van Den Heuvel and one other gentlemen [sic]. The other Company personnel always became nervous about anything to do with legal matters. Mr. [Ron] Van Den Heuvel was not present, so Mr. [Phil] Reinhart – the other Company personnel – asked me to handle the scheduling call. I was extremely wary about doing so, but I agreed to take the call for two reasons. One, I had already informed the court that I was ineligible to practice law, so I believed it that if it was inappropriate for me to participate, the Court or Attorney Ostrow would have told me so. Both parties were aware before and during the call that my license was in suspension. Second, I was fairly certain that participating in a Scheduling Conference did not constitute the practice of law (the conference came on me so fact I did not have a chance to research the issue) but I distinctly remembered occasions where secretaries and paralegals had participated. Subsequently I have been informed by both Attorney John Petitjean and Attorney Mark [Bartels? – Eds.] that participating in a scheduling conference DOES NOT constitute practicing law.
Nevertheless, because of all of the confusion that occurred as result of my participation, I sincerely wish I had not done so. I believe I may have unintentionally misled Attorney Ostrow during the conference (because the Company had no money, I believed that as soon as I restored my license I would have to resume representation – but I believe I made it sound like this would happen quickly, which I did not mean to convey). Again, if I could do it over, I would never have agreed to take the Scheduling Conference call.
2. THE QUESTION OF NOTIFICATION. I did not provide the Company with certified notification of my suspension by mail, because as I said, they knew of my status immediately and it would not have made practical sense because I worked in the same office and I saw them all day every day and thus sending them a letter would have seemed silly.
3. As for the November 1st, 2013, as I outlined above, THAT particular "added" suspension stunned me, because I provided the client with al of the State Bar Fee paperwork (including the Trust waiver), and the client told me "we will take care of that" and THEN ACTUALLY TOLD ME THEY DID TAKE CARE OF PAYING MY STATE BAR FEES WHEN IN FACT I GUESS THEY DIDN'T. What's so bizarre is the the Company bookkeeper (Mr. [Ron] Van Den Heuvel's wife [Kelly]) went so far as to make up a phony conversation between herself and a State Bar customer service person (she actually told me State Bar customer service person asked her "whether (I was) taking classes" – which I should have immediately been suspicious of because there would have been no reason for such a question, but I never would have dreamed anyone would go so far as to make up a conversation just to deceive me in to thinking the fees had been paid when they weren't). Thusly, the Company knew in October (when it said it told it "took care" of the State Bar Fees) that if those fees were not paid by November 1st, 2013, my license would be "doubly" suspended on that date. So by deliberately pulling their lame deception, they knew they were going to get me another suspension. Moreover, as soon as I found out my name was on the roll call for State Bar Fee suspensions, I went ballistic and wanted answers. (To this day, no one has given me any and I have no idea why [Kelly Van Den Heuvel] told me she paid my fees when she did not. Obviously, she had to know the ruse would never work in the long run).
4. DID I PROVIDE NOTICE TO PLAINTIFF'S COUNSEL IN JUNE? No, I did not provide Plaintiff's attorney with notification of my suspension until I served upon them my Motion for Withdrawal on August 15. At that time, I clearly stated that I was withdrawing because of the June 5 suspension left me ineligible to practice law.
5. DID I TRY TO CONVINCE THEM TO PROVIDE ALTERNATE COUNSEL? As I stated above, I begged them to do so. Had they done so when I asked, I would not be in this precarious position.
6. WHAT HAVE I DONE TO CLEAR THE SUSPENSIONS? I have taken all classes needed and have turned in my CLE Petition along with the $200.00. When and if my Petition is granted, I will subsequently raise the necessary moneys to also clear the State Bar Fee Suspension, and I will provide any missing paperwork necessary as well.
7. I covered the mail issue above.
8. I did not perform any legal work for Mr. [Ron] Van Den Heuvel after my suspension. I performed only administrative and writing tasks.
I WILL BE SUPPLEMENTING MY ANSWERS AND PROVIDING THE REQUESTED DOCUMENTATION IN THE DAYS TO COME, BUT WANT TO GET THIS IN NOW.
Sincerely,
Ty Willihnganz
State Bar ID # 1026693
1551 Silverstone Trail; Suite 8
De Pere, WI 54115
UPDATE:
See also:
posted by the Editors
Tags: Abdul Latif Mahjoob / ACTI / AREC / AREI / ARTI, ACF Leasing, ACF Services, Alliance Construction & Design / Alliance GC (Global Conservation), American Combustion Technologies Inc. (ACTI) / American Combustion Technologies of California Inc. (ACTI) / American Renewable Energy Inc. (AREI) / American Renewable Technologies Inc. (ARTI), Ann Murphy, Arland Clean Fuels, Artley Skenandore Jr. / Swakweko LLC, Atty. David Stellpflug, Atty. John Petitjean, Atty. Johnathan Smies, Atty. Mark Bartels / Stellpflug Law SC / SC Acquisition Co. LLC, Atty. Michael J. Fitzgerald / Fitzgerald Law Firm, Atty. Michael J. Kirschling / Stellpflug Law SC, Atty. William Cornelius, Atty. Winston Ostrow, Blue Stone Strategy Group LLC, Brian Patterson, Brown County Sheriff's Dept., Bruce King, Bureau of Indian Affairs / BIA, Cliffton Equities Inc., Dae Sung LLC, Dan Ariens, Daniel Platkowski, David J. Wolf / JWR Inc., De Pere Mayor Mike Walsh, Debbie Stary, Die Green LLC, Dr. Marco Araujo, EcoHub Houston LLC, EcoHub LLC, EcoHub USA LLC, EcoHub Wisconsin LLC / formerly known as Green Box Wisconsin LLC & Green Box NA Wisconsin OP LLC, Eric Decator / Counsel & Part-owner Generation Cean Fuels LLC aka Arland Clean Fuels, Federal Bureau of Investigation / FBI, Fmr. Green Bay Mayor Paul Jadin, Gaylen LaCrosse / Gaylen La Crosse, Generation Clean Fuels, Glen Arbor LLC, Godfrey & Kahn, Green Bay Mayor Jim Schmitt, Green Bay Packers, Green Bay Packers Executive Committee, Green Bay Renewable Energy LLC / GBRE, Green Box NA Detroit LLC, Green Box NA Georgia LLC, Green Box NA Green Bay LLC, Green Box NA LLC, Green Box NA Michigan LLC, Green Box Wisconsin LLC, Green Peak Inc., Hinkfuss Sickel Petitjean & Wieting, Jacqueline Zalim / Jackie Zalim, Jim George, Joseph Camilli, Joseph Kavan, Judge Donald Zuidmulder, Kelly Van Den Heuvel / Kelly Yessman, Kevin Cornelius, Kroll's West, KYHK LLC, KYHKJG LLC, Louis Stern, Manchester Mortgage Co. LLC, Mandan Hidasta & Arikara Nation, Mandaree Enterprises LLC, Mantria Corporation, Marc Hess / MH Resources Corp., Mark Verhaagh, Michael Flaherty / President & CEO Generation Clean Fuels aka Arland Clean Fuels, Mike Metoxen, Mission Support Services Nevada LLC / Mission Support Services LLC, Nathan King, Native American Journalists Association / NAJA, Nature's Choice Tissue LLC, Nature's Way Estates LLC, Nature's Way Tissue Corp., Oneida Energy Blocker Corp., Oneida Energy Inc., Oneida ESC Group LLC / OESC, Oneida PR Director Bobbi Webster, Oneida Seven Generations Corporation / OSGC, Oneida Total Integrated Enterprises / OTIE, Owen Somers / Oneida Internal Security Director, P2O Technologies, Pat Murphy, Patriot Development LLC, Patriot Investments LLC, Patriot Paper Services Inc., Patriot Services Inc., Patriot Tissue LLC, Paul Linzmeyer, Pete King III / King Solutions LLC, Phil Reinhart, Q&L Holdings LLC, Reclamation Technology Systems LLC (RTS) / formerly dba Environmental Advanced Reclamation Technology HQ LLC (E.A.R.T.H.) & Nature's Choice Tissue LLC, Reed Hall, Ron Van Den Heuvel, Skip Starck / Arnstein & Lehr LLP, Stephen A. Smith / President and CEO of GlenArbor Partners Inc., Steve Patterson / RES Publica Group, Stonehill Converting LLC, Stonehill Financial LLC / SHF XII LLC, Stonehill Law Office, Sustainment & Restoration Services LLC, Tami Phillips, Thornberry Creek at Oneida, Tissue Depot LLC, Tissue Products Technology Corp., Tissue Technology LLC, Todd Van Den Heuvel, Tsyosha?aht Cathy Delgado, Ty Will Law LLC, Ty Willihnganz, U.S. Atty. Gen. Loretta Lynch, U.S. Bankruptcy Court, U.S. Dept. of Energy, U.S. Dept. of Interior, U.S. Dept. of Justice, U.S. Sen. Tammy Baldwin, US Securities & Exchange Commission / SEC, VOS Electric Inc., WEC Energy Group Inc. / Wisconsin Energy Corp. / WE Energies / Wisconsin Public Service / Peoples Gas / North Shore Gas / Michigan Gas Utilities / Minnesota Energy Resources, WI Gov. Scott Walker, WI Office of Lawyer Regulation
Filed under: Court, Godfrey & Kahn, Green Bay Renewable Energy, Incinerators / Pyrolysis / Gasification / Waste-to-Energy, Law, Nature's Way Tissue Corp. LLC, Oneida Energy Inc., Oneida Nation of Wisconsin / ONWI / Oneida Tribe of Indians of Wisconsin, Oneida Seven Generations Corporation, Oneida-Kodiak, OTIW / ONWI, Ron Van Den Heuvel