Audio & Transcripts Of Oneida Nation WI General Tribal Council Meetings Regarding Oneida Seven Generations Corp, / OSGC Held On April 11, 2011; May 5, 2013; & December 15, 2013
10th
October 2014

Closed
Here are links to downloads of MP3s and transcripts of the Oneida Tribe of Indians of Wisconsin's General Tribal Council meetings regarding Oneida Seven Generations Corporations:
Here's an important excerpt of the April 11, 2011 GTC meeting starting with part of the presentation by Tribe member Yvonne Metivier and observations by other Tribe members.
This observation by Mike Debraska in that excerpt stands out in particular (found on page 7 of the transcript):
Mike Debraska: I have a couple of questions here. Can everyone please turn to page 55 [of the meeting packet]? If you all go down to that fourth paragraph, where it starts out "the Oneida Business Committee has authorized two types of corporate entities," jump down to the sixth sentence there. It says "the Oneida Tribe does not currently have laws regarding corporations in place." Why on God's green earth are we supporting Seven Gens when you guys don't even have laws, rules or regulations to govern those people? That's first, okay. Secondly, look at a couple lines down from there in that paragraph that says…in the second sentence, "however, in the case where the corporation has a small number of shareholders or in the case where the Tribe is the sole shareholder, liability" – LIABILITY – "may pass through the corporation to the Tribe." You mean we're responsible for their blunders and their errors? That's my second point. I got about 20 others in here because I've spent about 14 hours going through this thing and picking it apart. On page 58, if you notice, on the bottom there, or, excuse me, go one page back to letter H. It says, "to elect or appoint officers or agents of the corporations and define their duties and set their compensation, provided that such elections or appointments comply with the laws of the Oneida Nation and policies of the corporation…." What laws?! You just told me on the page before you have no laws, rules or regulations governing these people! This is what I mean about conflicting information. Bad, bad news. I can't make heads or tails of this and every time I've asked for information and had requests about Seven Gens, I've never gotten anything. I don't think we should be giving them one more dime.

[Fmr. BC Chair] Rick Hill: Kathy Hughes?

[Fmr. BC Vice-Chair] Kathy Hughes: On the question, I guess the first one, about the Tribe having no corporate laws, that is basically correct.
Kathy Hughes goes on to try to claim that the corporate charters contain reporting requirements, but, as Oneida Eye has reported, OSGC has failed to fulfill even the most basic elements of those requirements and the Business Committee hasn't seemed to care. (See our post, Lead Or Get Out Of The Way.)
This leads to the type of ignorance about the Tribe's corporate activities as demonstrated in Fmr. BC Sec. Patty Hoeft's July 17, 2014 deposition. See Part 1 and Part 2.
From page 31 of Patty Hoeft's deposition:
Q: What supervisory duties did the Business Committee have over OSGC in 2013?

A: No supervisory duties. They reported to us, but we did not have supervisory power, the Business Committee.

Q: Okay. In 2012 and 2013 when OSGC would report to the Business Committee of the Tribe, how was that done?

A: Generally they have standard reporting process, a quarterly reporting process, and by their charter they have to report – they report their strategic ideas and performance in executive session, and then in open session they give a narrative report describing generally intiatives that they are working on.
In reality, it is the Business Committee that appoints members to OSGC's Corporate Board, and the BC also has the power to remove members of OSGC's Board based on their performance, as demonstrated by BC Chair Tina Danforth's attempt in 2009 to remove three members from the Board "for cause as stated in the Oneida Seven Generation Corporation bylaws Article [3.] Section 12," which says "[a] board member may be removed with cause by a majority of vote of Business Committee or Board of Directors." How can BC members claim that they don't have supervisory powers over OSGC when they have the ability to remove for cause the people they appointed to the Board? (See our post, Tina Danforth Hoisted On Her Own Petard.)
Also, notice how in her testimony Patty Hoeft completely glosses over the fact that OSGC's Charter was amended in 2011 via BC Resolution 01-26-11-A, certified and signed by then Sec. Patty Hoeft, to include a Corporate Report Model which includes the requirement for OSGC to file a Disclosure Report with the BC "whenever there is a change to the Corporation's Board membership, turnover to key management personnel, or a business venture creating a new partnership, LLC, subsidiary, or any other legal entity connected to the Corporation for any purpose."
Despite that fact, in OSGC's December 31, 2011 Disclosure Report to the Business Committee, OSGC failed to mention their creation of Green Bay Renewable Energy, and Patty's deposition demonstrates that she was unfamiliar with the business and personnel relationships OSGC and GBRE and the various roles of Atty. WIlliam Cornelius and Kevin Cornelius. (See our post, Business Mysteries: Unaccountability for Acts.)
When Tribe members try to discuss at GTC meetings the very basic yet vital information that should be contained in those corporate reports, including "any relationship, financial or familial with any current member of the Oneida Business Committee or any member of any regulatory body within Oneida such as a board committee or commission charged with regulating the Corporation's industry or activities," they get shouted at or shut down as heard and seen in the following audio and transcript of the May 5, 2013 GTC Meeting.
Here's an excerpt of Petitioner Leah Sue Dodge giving her presentation before being cut off by Former BC Chair Ed Delgado for informing GTC of the familial connections between OSGC executives & Board members with Tribal elected & appointed officials, which OSGC is required to report to the Business Committee according to their Corporate Report Model, yet Disclosure Reports show that OSGC fails to reveal that important information.
4. Petitions …

b. Petitioner Leah Sue Dodge: General Tribal Council directs the Oneida Business Committee to stop Oneida Seven Generations Corporation (OSGC) from building any "gasification" or "waste-to-energy" or "plastics recycling" plant at N7329 Water Circle Place, Oneida, WI or any other location within the Oneida Tribal reservation boundaries

Motion by Karen Skenandore, seconded by Tammy Skenandore, to end discussion. Motion approved by show of hands.

Motion by Leah Sue Dodge, seconded by Cathy L. Metoxen, to direct the Oneida Business Committee to stop Oneida Seven Generations Corporation (OSGC) from building any 'gasification' or 'waste-to-energy' or 'plastics recycling' plant at N7329 Water Circle Place, Oneida, Wisconsin or any other location within the Oneida Tribal boundaries. Motion by Loretta V. Metoxen, seconded by Larry Smith, to table [the petition submitted by Leah Sue Dodge]. Motion to table failed by hand count: Yes—755, No—814, Abstentions–18, Total votes–1,587

Motion by Leah Sue Dodge, seconded by Cathy L. Metoxen, to direct the Oneida Business Committee to stop Oneida Seven Generations Corporation (OSGC) from building any 'gasification' or 'waste-to-energy' or 'plastics recycling' plant at N7329 Water Circle Place, Oneida, Wisconsin or any other location within the Oneida Tribal boundaries. Motion approved by a show of hands.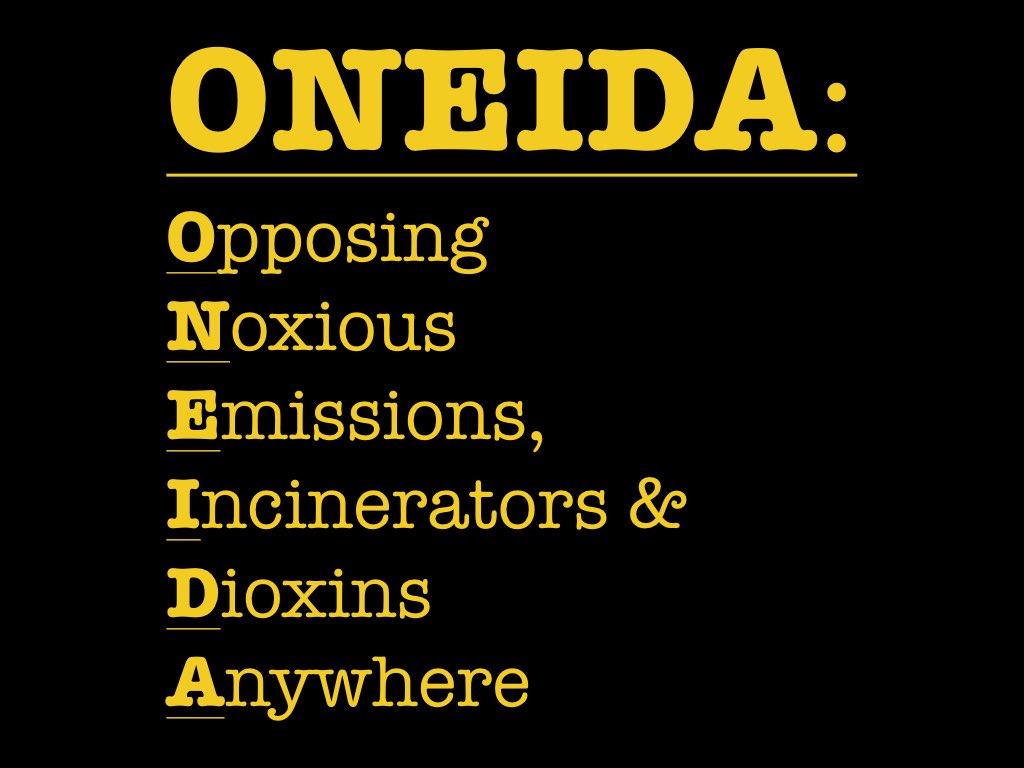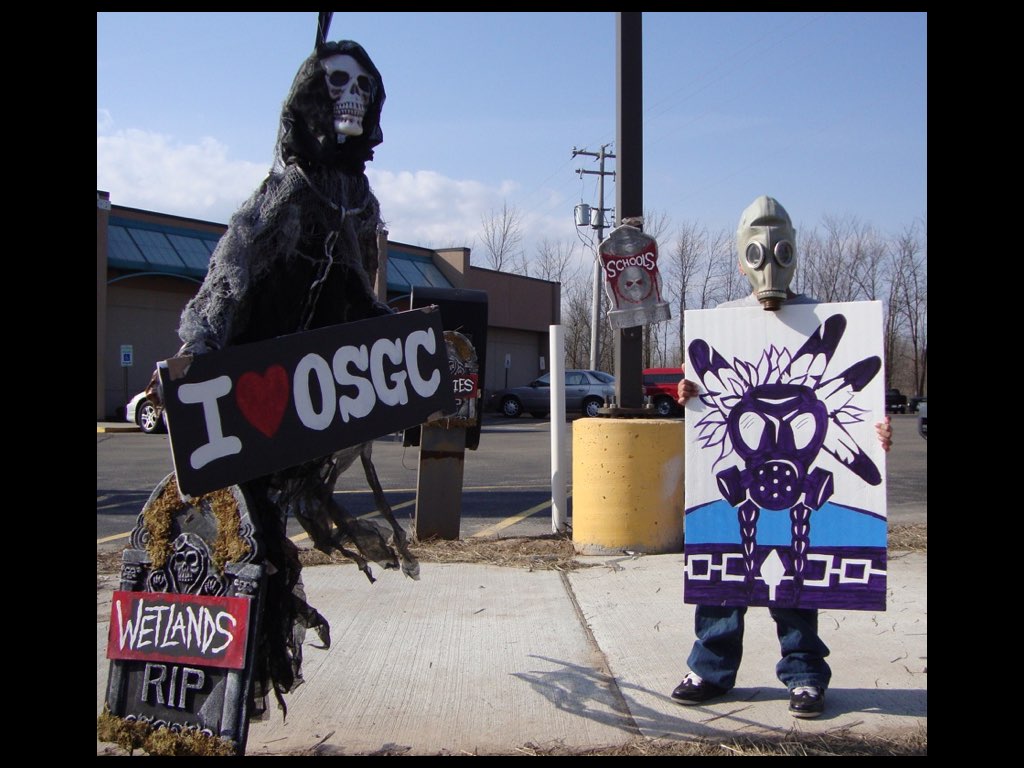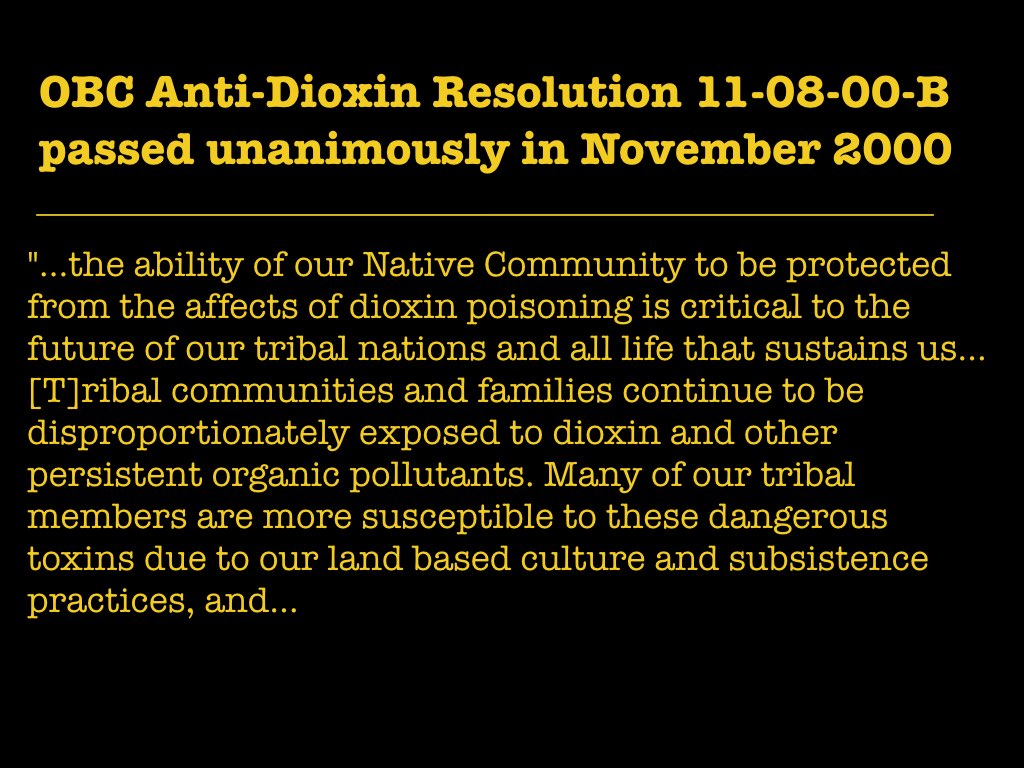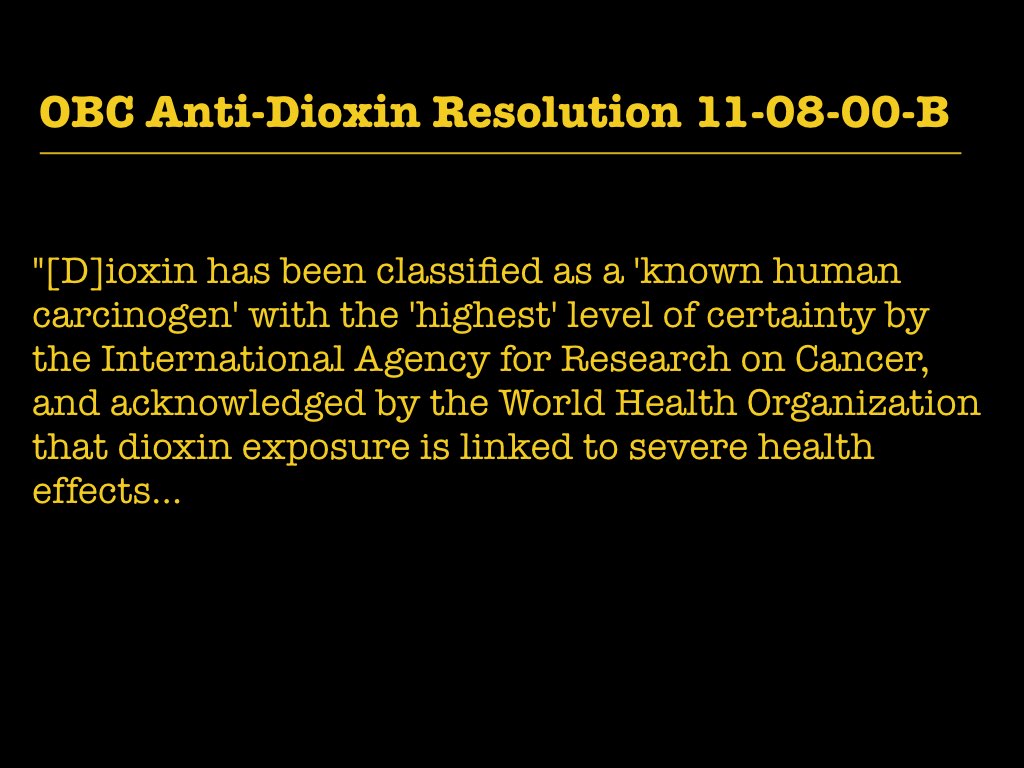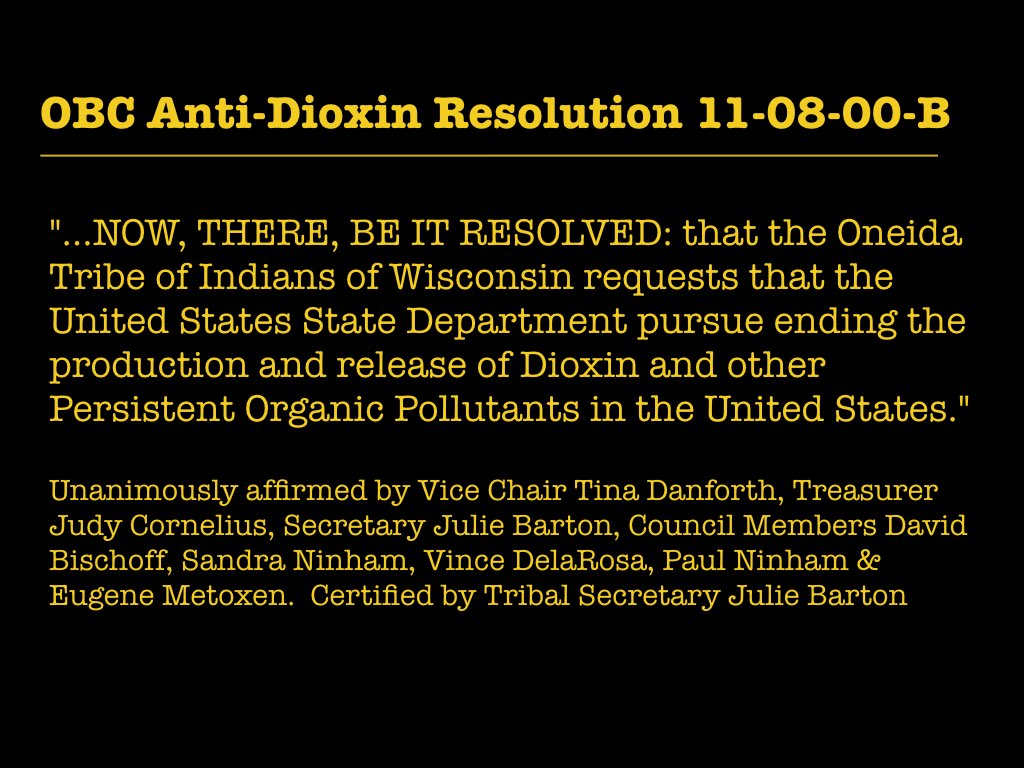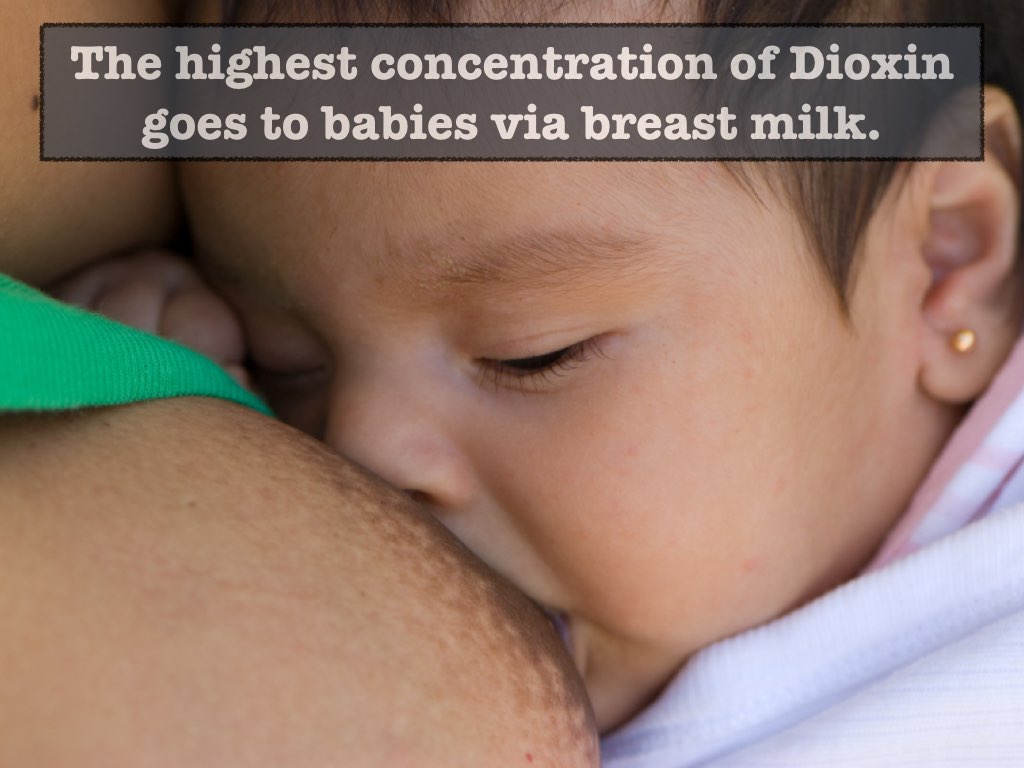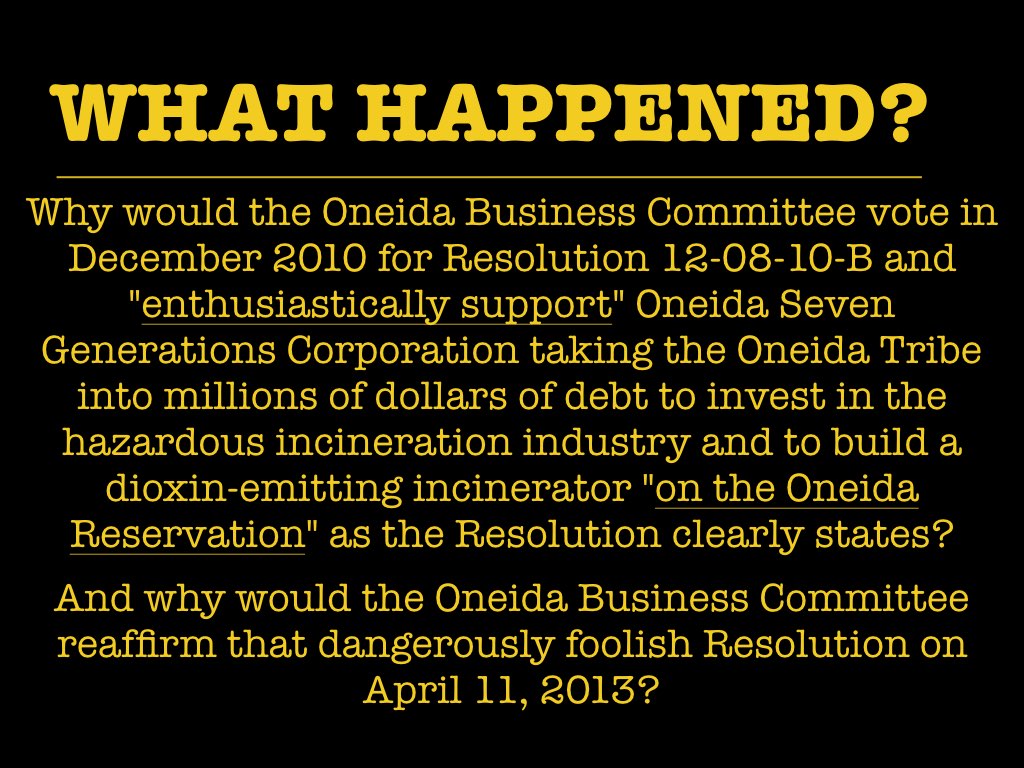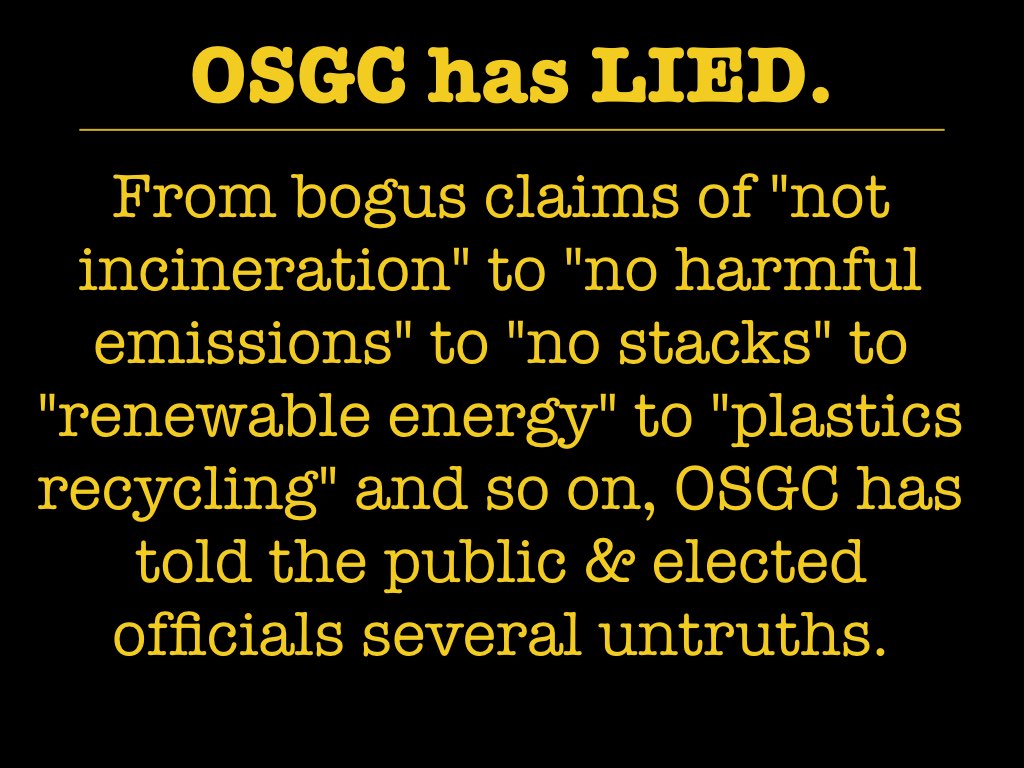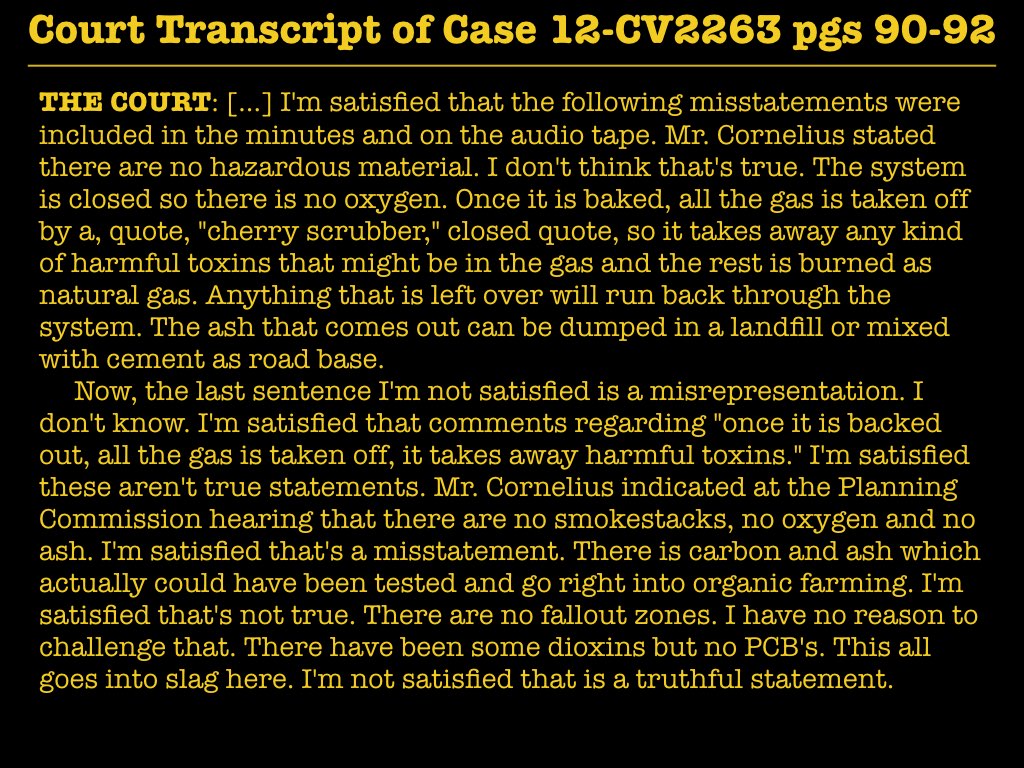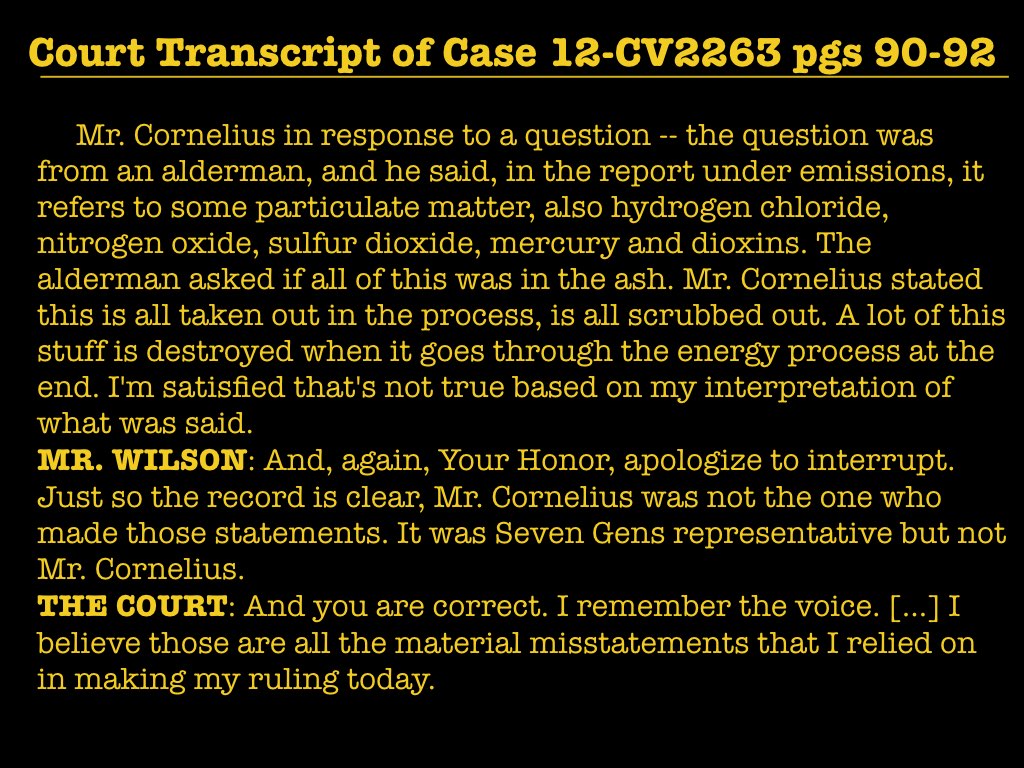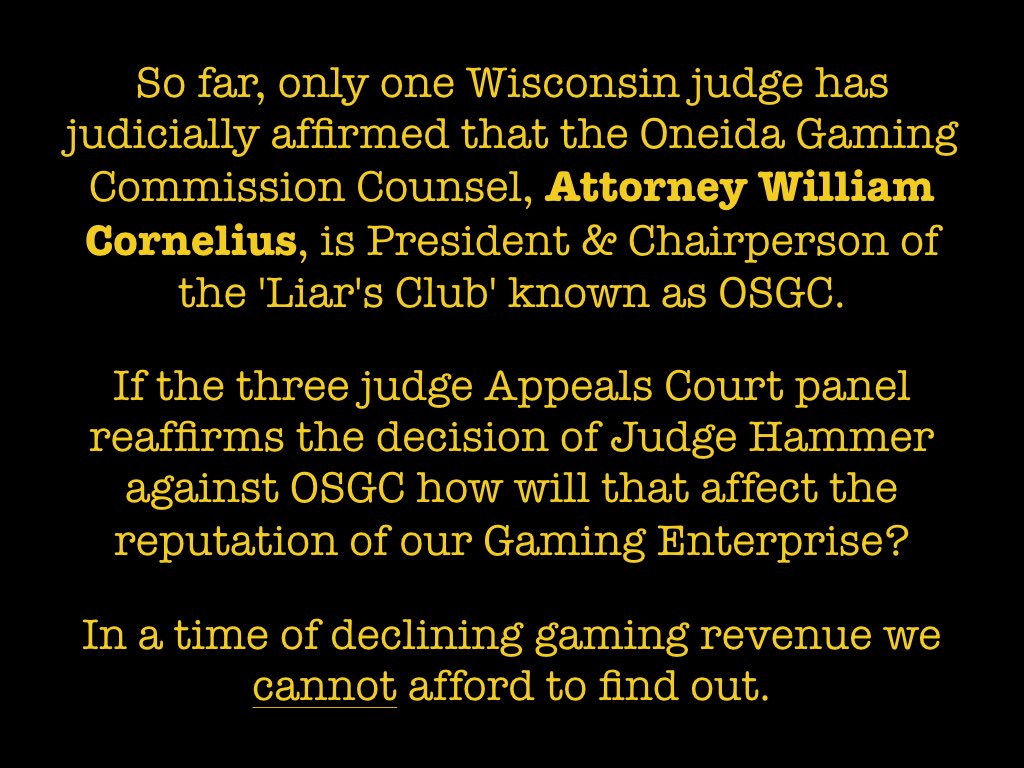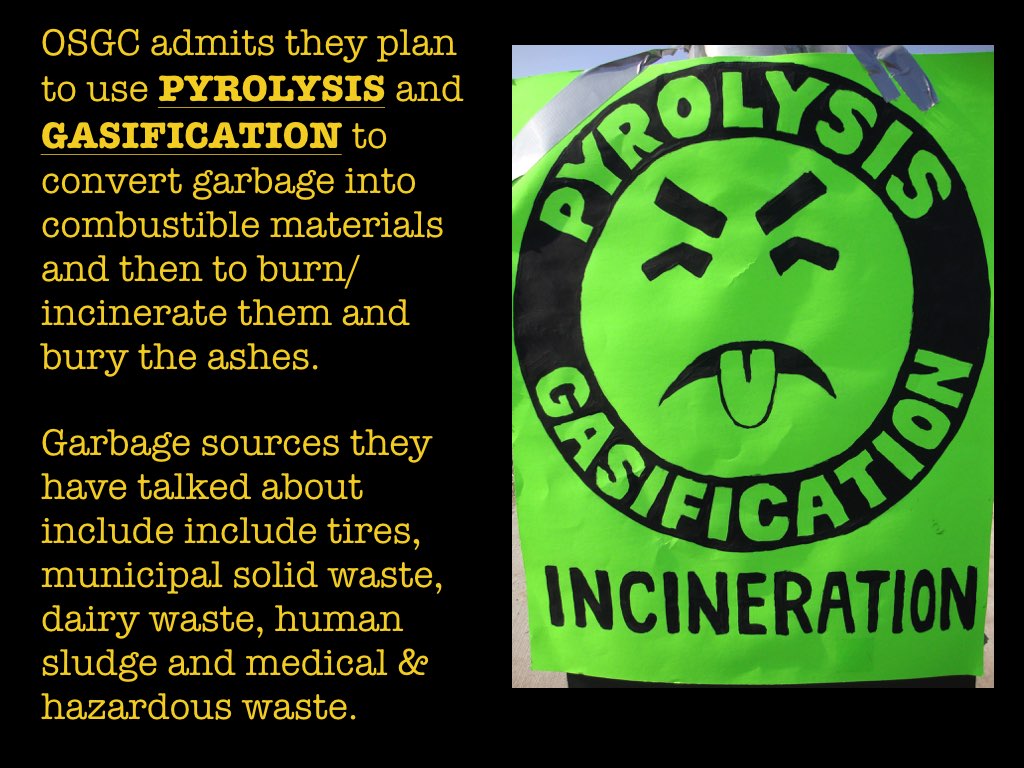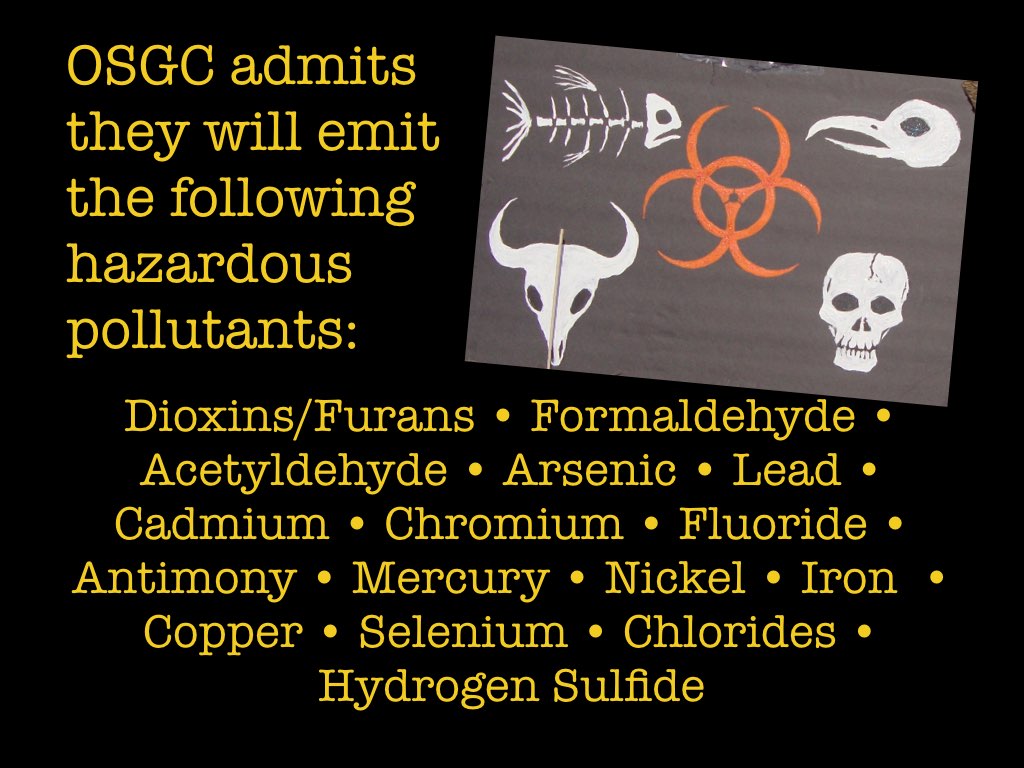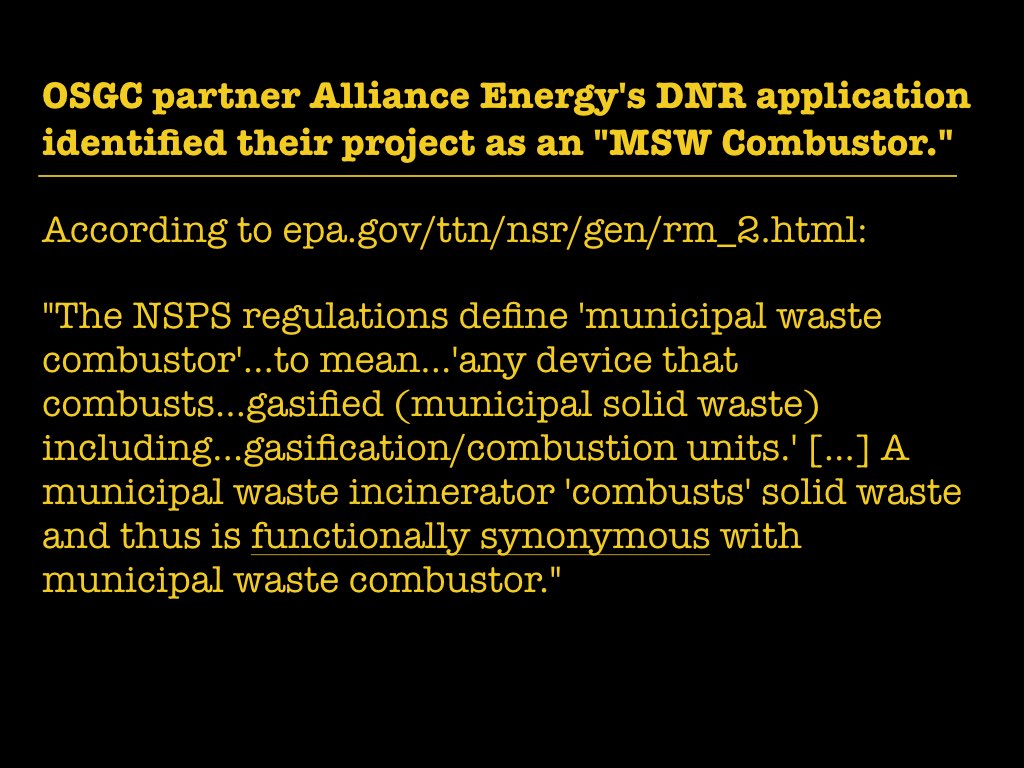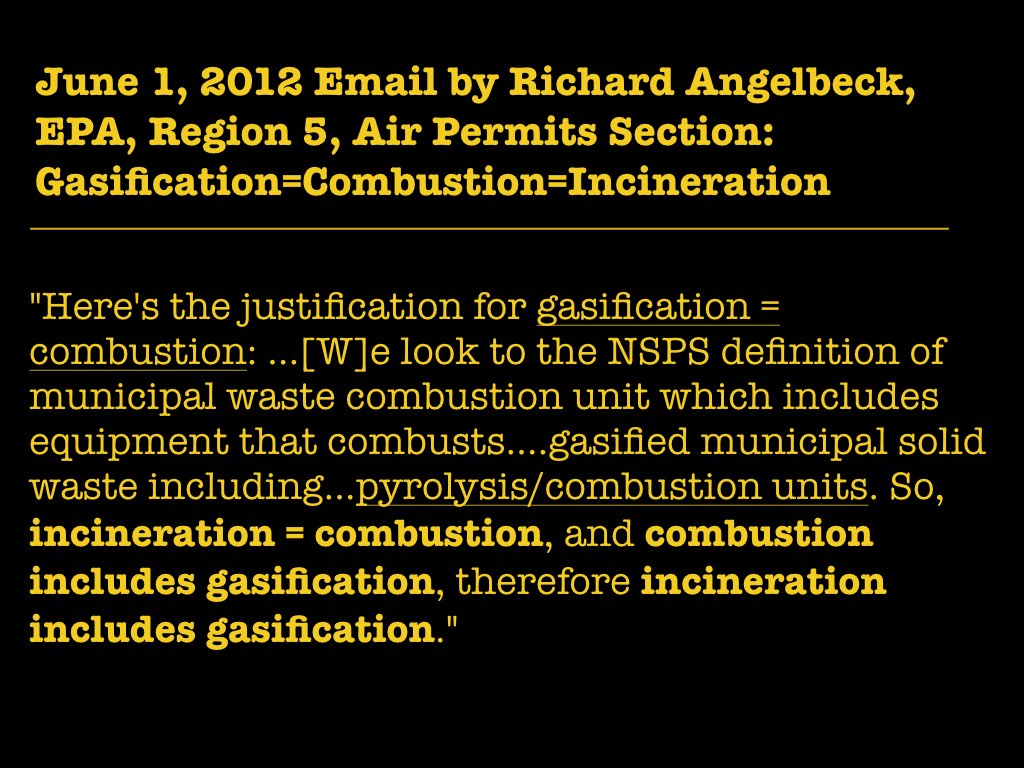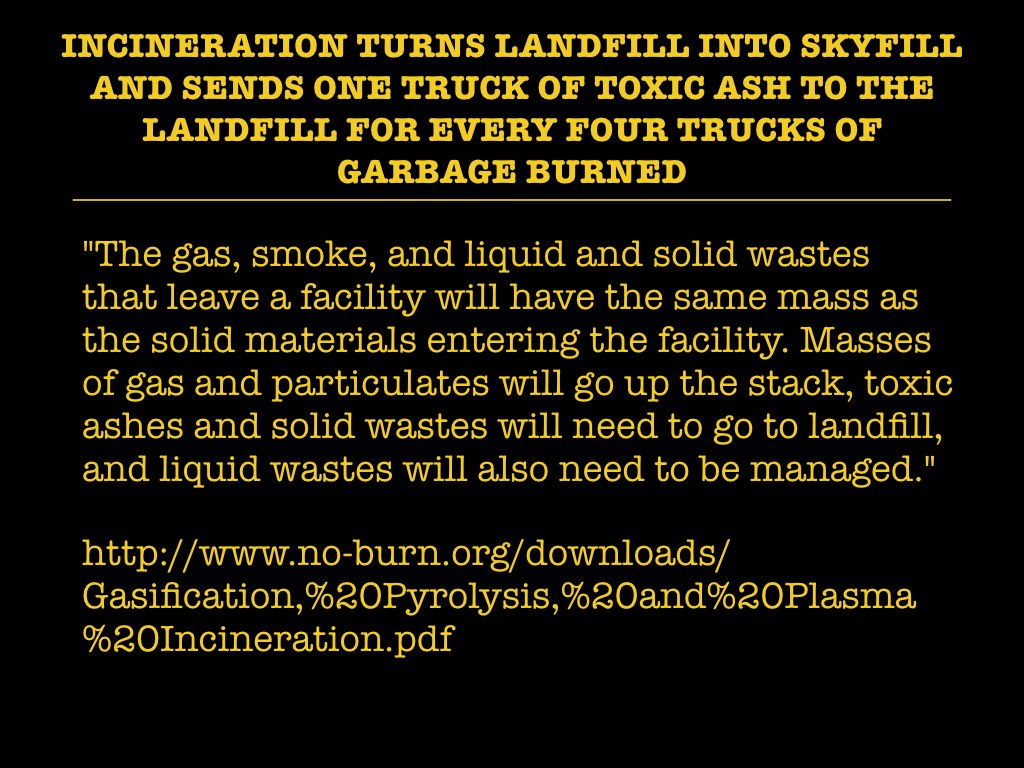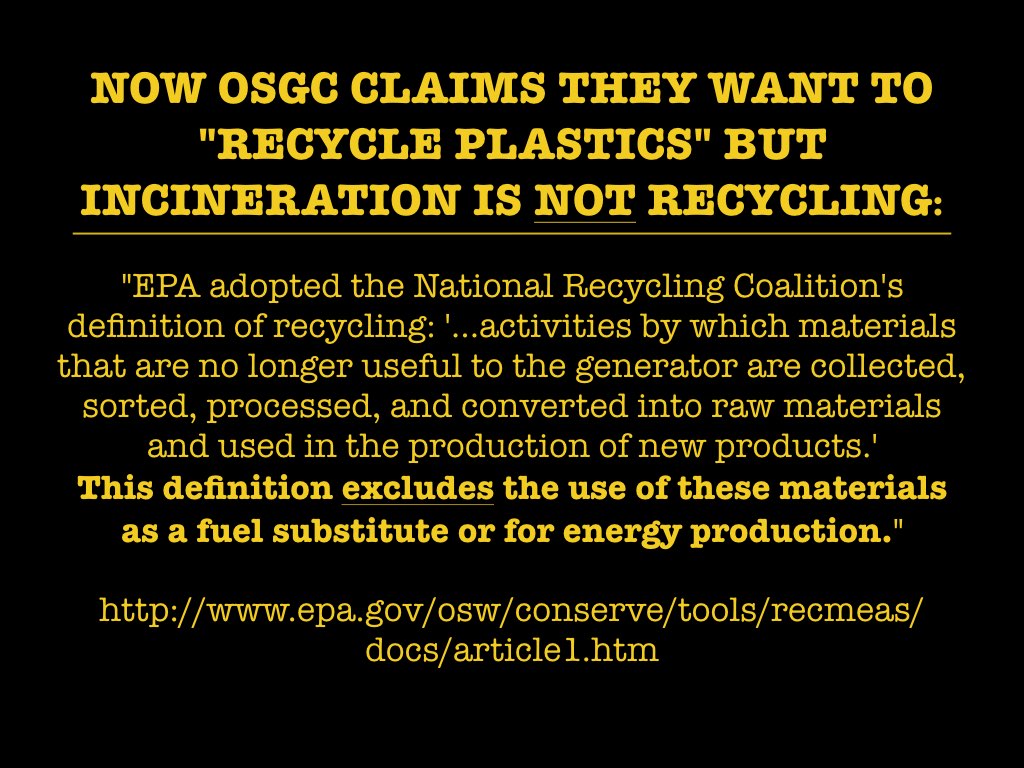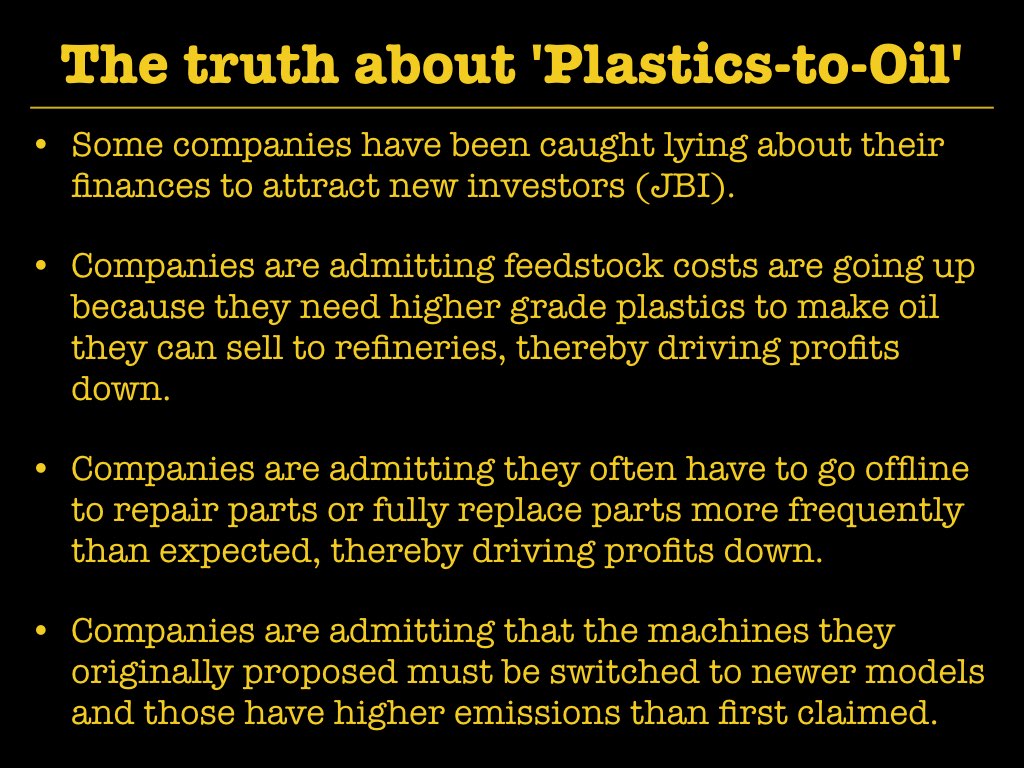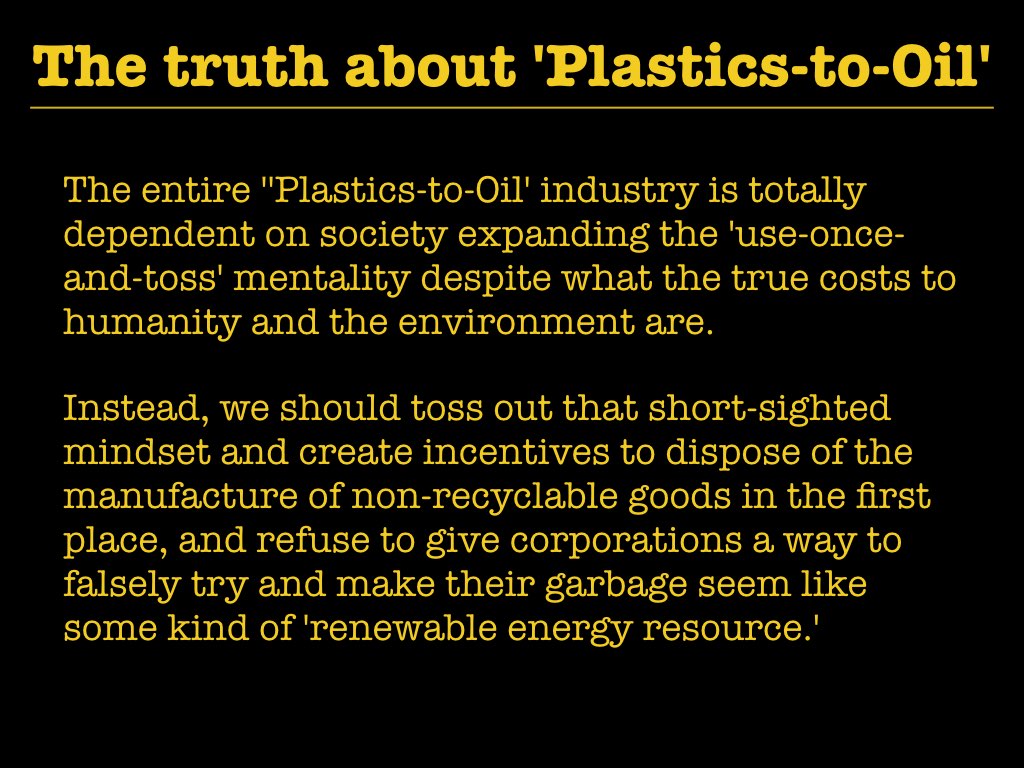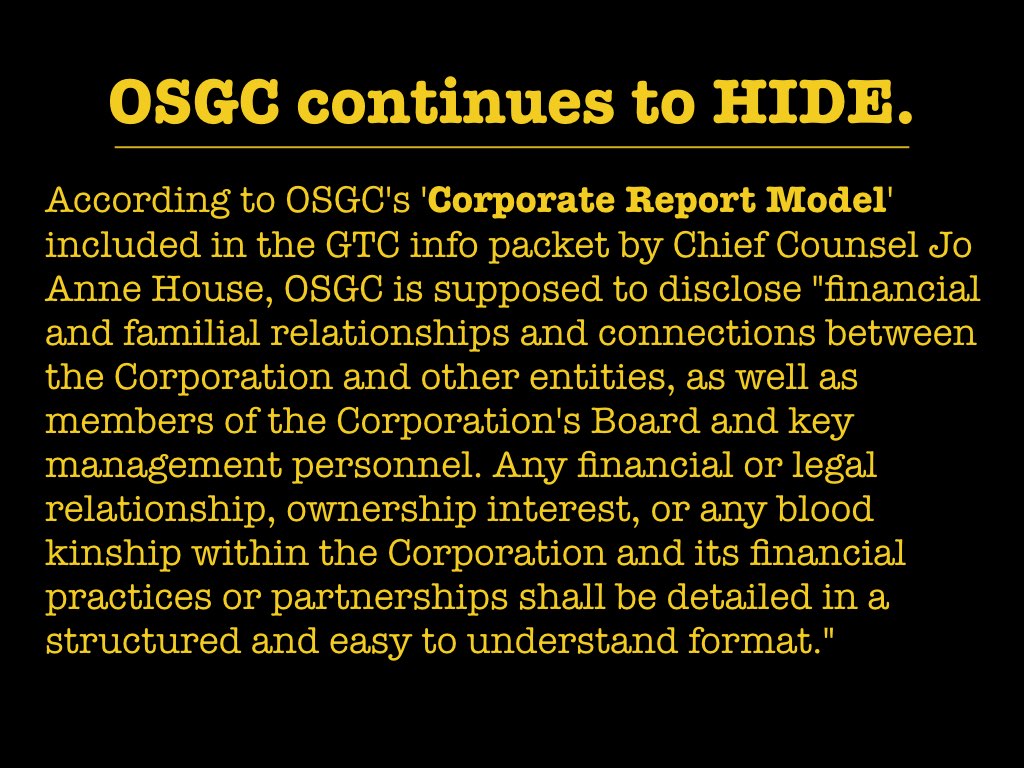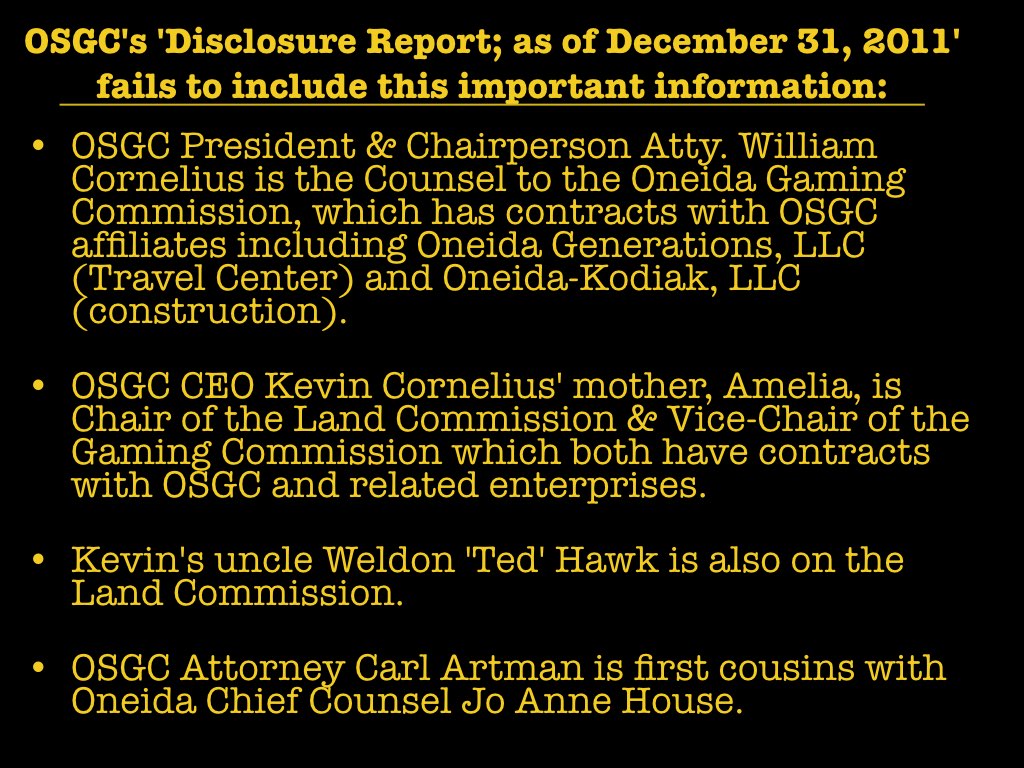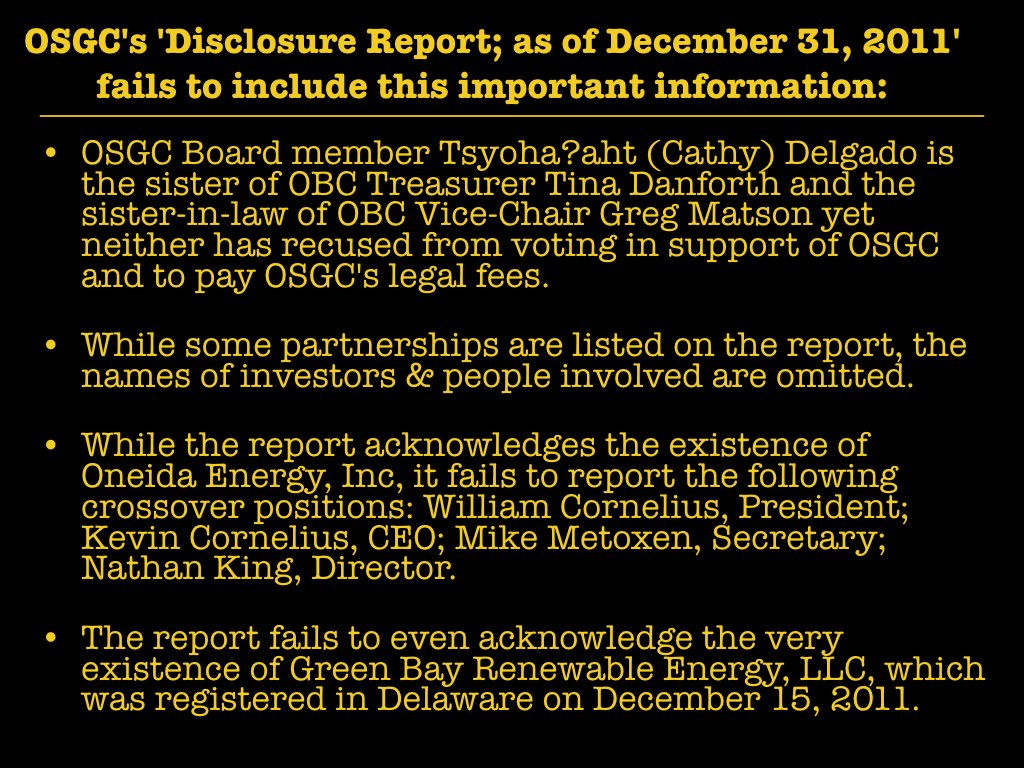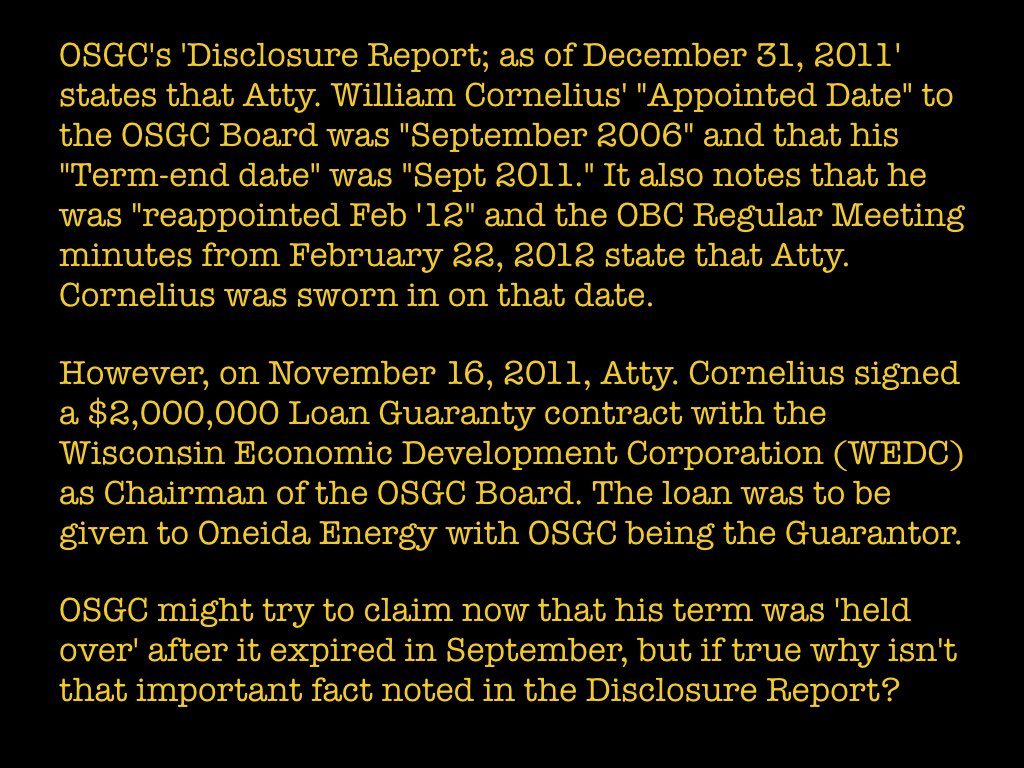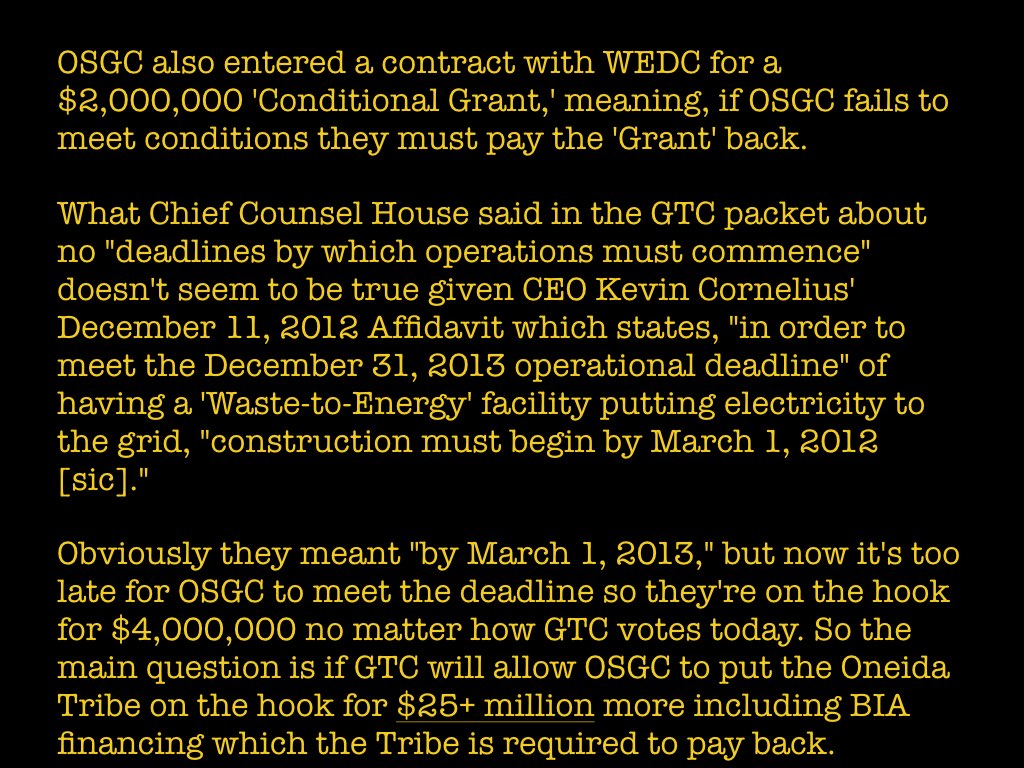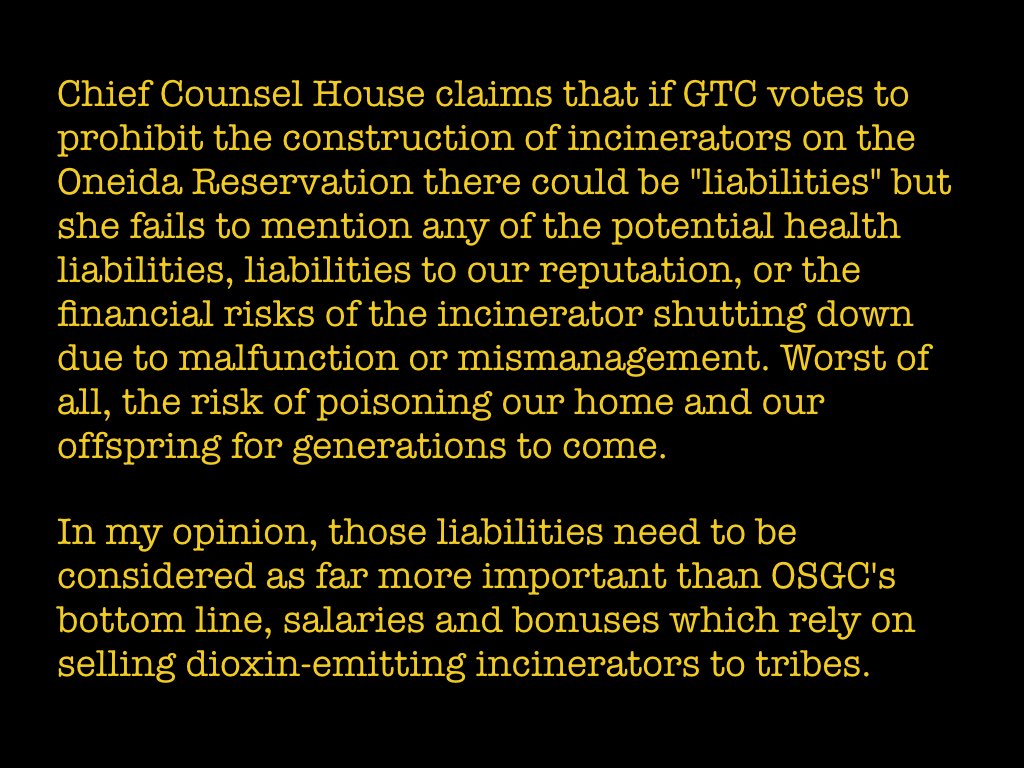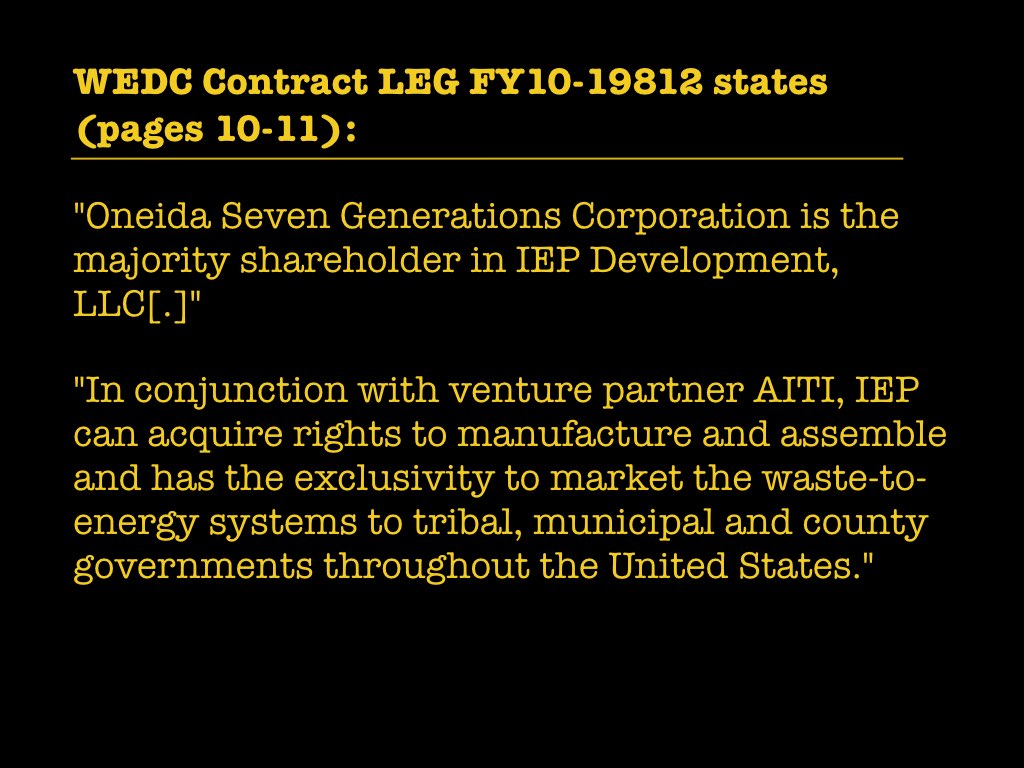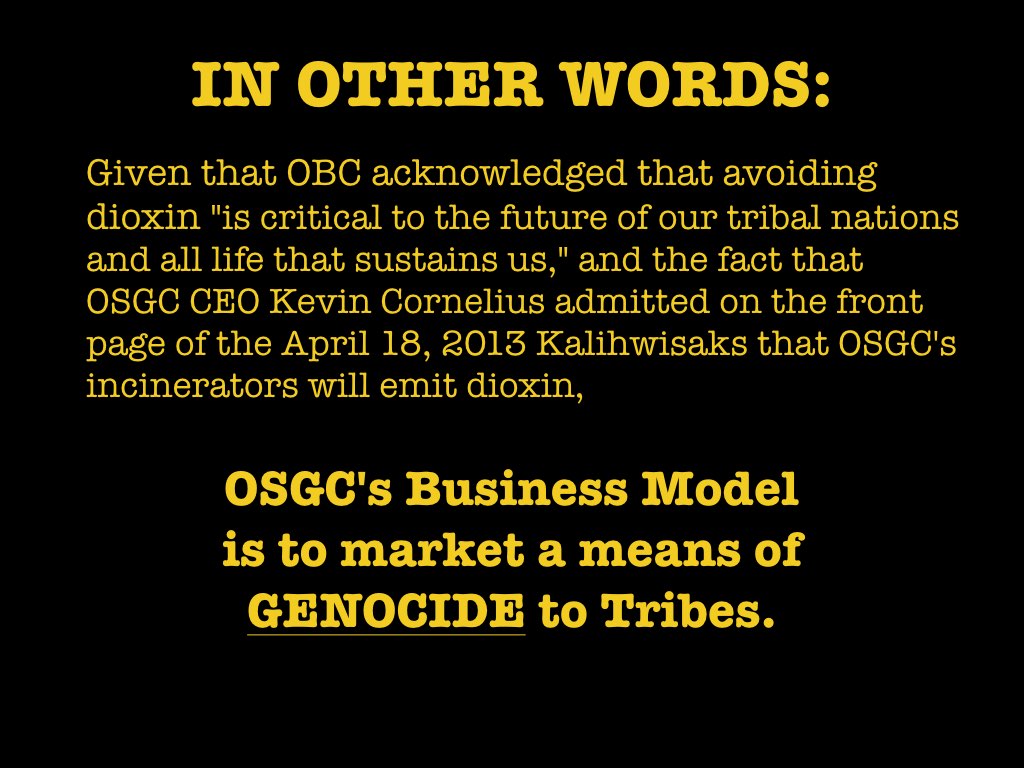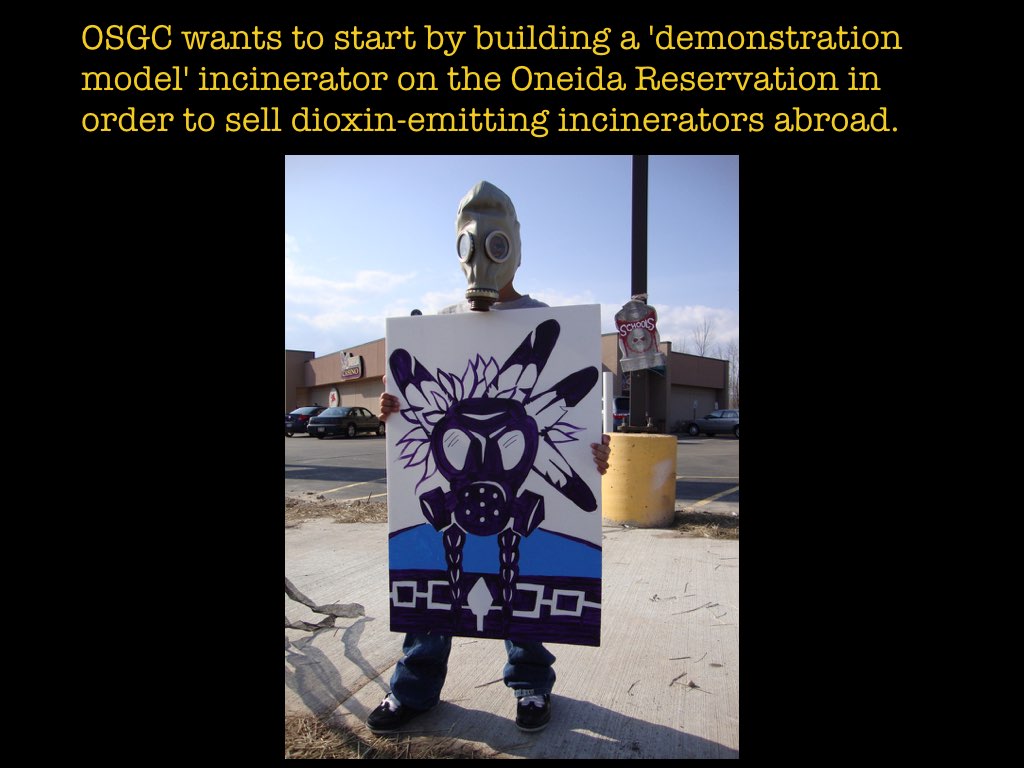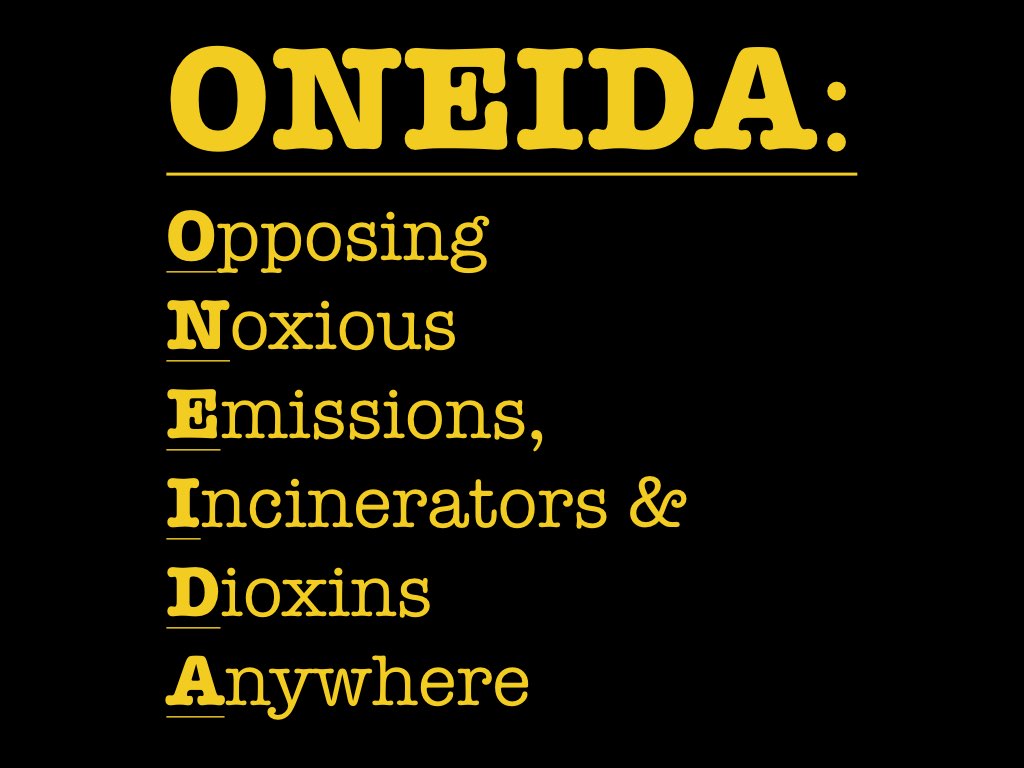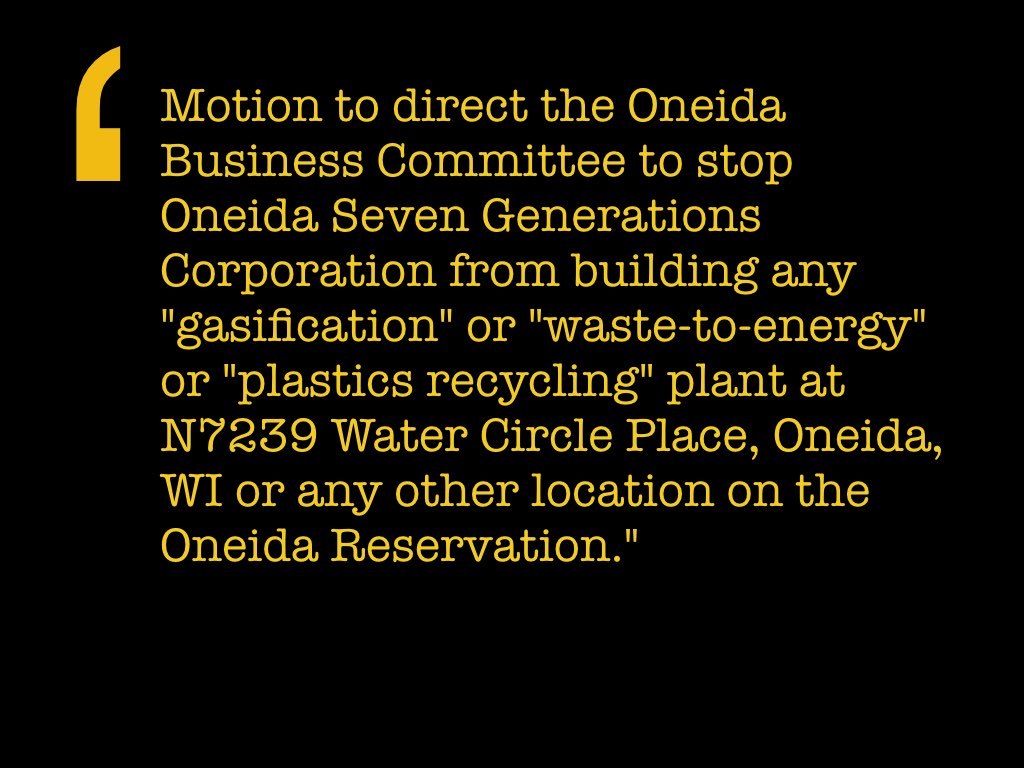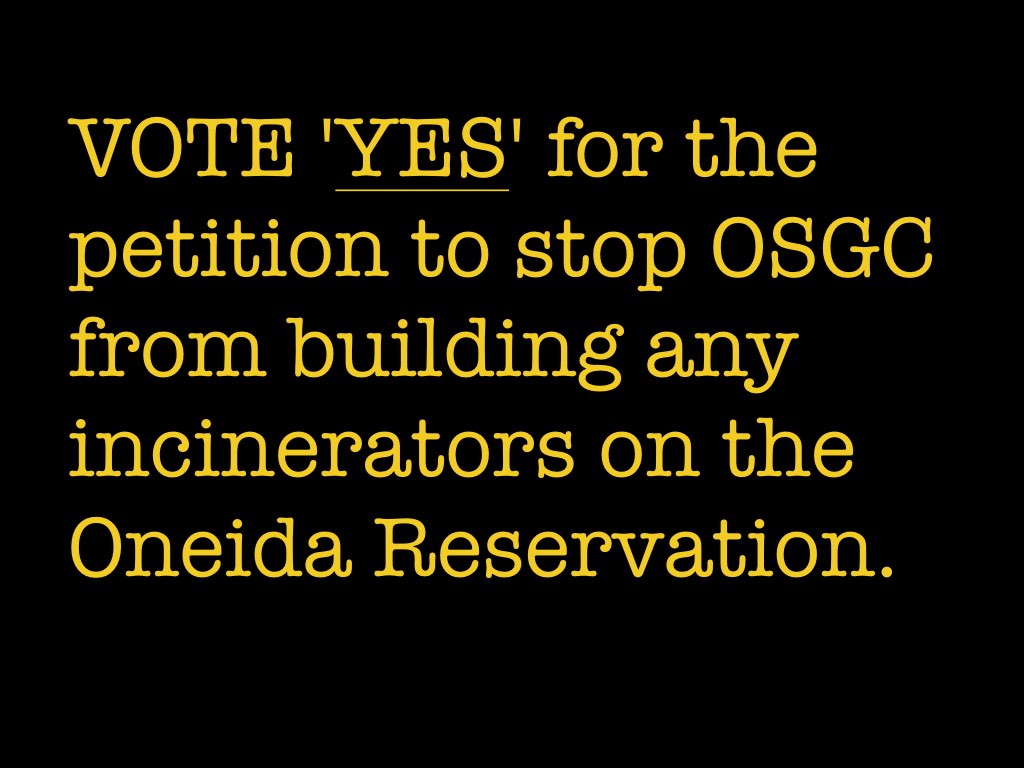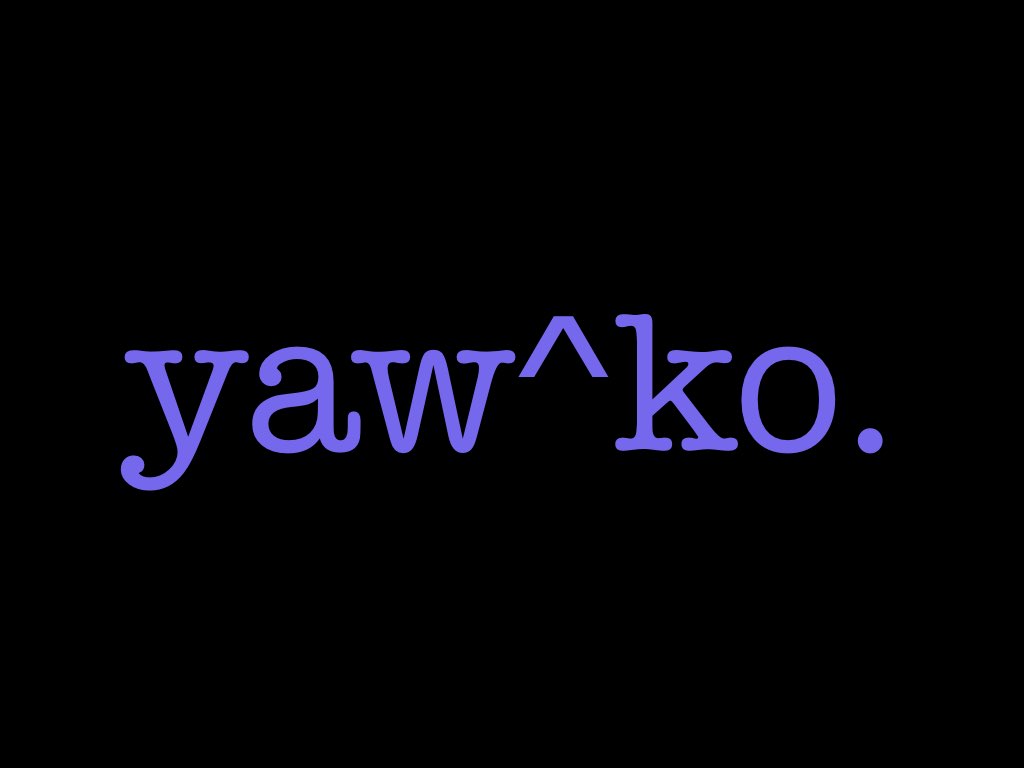 After the supreme governing body of the Tribe, General Tribal Council, voted to prohibit OSGC from engaging in gasification on the reservation, OSGC and their subsidiaries did it anyway.
(See our posts, Media Reports On OSGC's Open Flame Operation [UPDATED] and OSGC, Greg Matson, Brandon Stevens & Paul Ninham Think GTC Is A Joke [UPDATED: So Does Jo Anne House].)
When Tribe members ask for financial information regarding OSGC and its subsidiaries, they receive – at best – limited access to incomplete audits (such as the McGladrey & Pullen Audit & Analysis Of Dissolving OSGC) and are told that some of OSGC's subsidiaries aren't even included because a non-majority shareholder (Alliance Construction & Design) of Tribally-owned enterprises (Oneida-Kodiak Construction) has absconded with the financial records, yet there's no legal action taken by the Tribe to recover the financial records. Plus, there's no mention in any of the financial reports given to GTC that include the massive debts owed by OSGC and their subsidiaries to divisions and departments of the Tribe, even though OSGC's very existence depends on monies they receive from the Tribe for leasing buildings that were given to OSGC by the Tribe.
General Tribal Council voted to dissolve OSGC for a variety of reasons, including a history of costly failures, exorbitant salaries & bonuses, lack of transparency & accountability, misrepresentations to the City of Green Bay & the Tribe of the incinerator projects, and violation of GTC's May 5, 2013 directive not to conduct any incinerator projects on the Oneida Reservation.
Here's an excerpt of the meeting below, beginning with a poorly attempted defense of OSGC by one of their biggest cheerleaders, then-BC Treasurer Tina Danforth who is now BC Chair:
4. New Business

a. Petitioner Frank Cornelius: General Tribal Council directs the Business Committee to dissolve the Oneida Seven Generations Corporation based on the Law Office's March 2013 finding that the OSGC's corporate charter identifies that the shareholder (i..e. the Tribe), as represented by the Oneida Business Committee, can dissolve the corporation (petition submitted 7/9/13)

Motion by Cathy L. Metoxen to dissolve Seven Generations Corporation and for Frank Cornelius to assist and work with the Business Committee on the dissolution, seconded by Scharlene Kasee. Motion approved by a hand count: 814 yes, 689 no, 69 abstained, total-1,572
At the December 15, 2013 GTC Meeting General Tribal Council directed the BC not just to dissolve OSGC but also to work with Frank Cornelius on the dissolution, but the BC has so far refused to include Frank, going so far as to disrespectfully disallow him to even speak at the June 16, 2014 GTC Meeting. (See our post, June 16, 2014 GTC Meeting Transcript, Or How Greg Matson Lost The Election [VIDEO ADDED])
So, let's review:
the Oneida Tribe doesn't really have corporate laws;
reporting requirements in corporate charters are ignored by OSGC and the Business Committee;
the Business Committee claims it has no supervisory authority over OSGC, yet the BC has the power to remove Board members for cause;
the Business Committee approves and reaffirms its support for OSGC's corporate activites that could destroy the Tribe as described in the BC's own Resolution;
GTC, the supreme governing body, isn't allowed in its own meetings to discuss important aspects of OSGC and its subsidiaries;
when the supreme governing body mandates the BC to prohibit OSGC from certain activities OSGC does it anyway in violation of GTC directives and local zoning ordinances;
when Tribally-owned financial records are taken and kept hidden by non-Tribal entities the Business Committee and OSGC just say "ho-hum";
audits the supreme governing body receive are incomplete at best, and perhaps even paint a false rosy picture because the auditors are given incomplete information.
when the supreme governing body directs the BC to work with a specific GTC member on dissolution of OSGC, the BC refuses and flagrantly violates GTC's and their elected representative's Constitutional rights;
when the Tribe is sued for the actions of people it put in power at OSGC (who then put themselves in power via OSGC subsidiaries such as GBRE), the Tribe and OSGC claim they have sovereign immunity because, hey, we're a 'Nation' with our own laws (sort of) and means of accountability (not really).
No matter what happens in Cook Co. Case No. 2014-L-002768, ACF Leasing, ACF Services & Generation Clean Fuels vs. Green Bay Renewable Energy, Oneida Seven Generations Corp. & Oneida Tribe of Indians of Wisconsin (the Tribe and OSGC have invoked 'sovereign immunity' to escape liabilities), it is clear that General Tribal Council must whip the Business Committee and the Tribe's current and future corporate entities and subsidiaries into shape as a matter of self-defense, dignity and honor.
Otherwise, the lawlessness will go on.
UPDATE: On Wednesday October 8, 2014 the Oneida Tribe of Indians of Wisconsin and Oneida Seven Generations Corporation were dismissed from Cook Co. Case No. 2014-L-002768, but Plaintiffs have 30 days to file an appeal of that decision. OSGC subsidiary Green Bay Renewable Energy continues to be a Defendant in that lawsuit.
On Monday October 20, 2014 the City of Green Bay's first Brief is due before the Wisconsin Supreme Court regarding the City's appeal of the Wisconsin Court of Appeals March 26, 2014 reversal of the January 9, 2014 decision by Brown County Judge Marc Hammer that OSGC & GBRE had misrepresented their municipal-waste incinerator project to the City's Common Council.
OSGC's & GBRE's municipal-waste incinerator project is different from the plastics-to-oil incinerator project, both of which were unsuccessfully pursued under the failed leadership of OSGC President & Chair Atty. William Cornelius and OSGC CEO/GBRE President & CEO Kevin Cornelius, with the support of the Oneida Business Committee.
But both frauds are part & parcel of the extensive and pervasive criminal fraud schemes that have been perpetrated by Artley Skenandore's & Oneida Seven Generations Corporation's business partner in the Nature's Way Tissue Corp., LLC, scam against the General Tribal Council –
RONALD HENRY VAN DEN HEUVEL
– who has apparently been the invisible, silent partner in the subsequent 'gasificiation' and 'plastics-to-oil' fraud schemes that have resuluted in millions and millions of dollars in losses and posed unnecessary risks to the health, safety, welfare, and very existence of the Oneida Nation in Wisconsin.
How many MILLIONS have already been stolen from the General Tribal Council by the Oneida Business Committee for Artley's, OSGC's & Ron's cons?
And how many MORE were secrectly given away by John Breuninger in an undisclosed settlement agreement after the OBC made him the 'Sole Director' for OSGC's subsidiaries in a $397 Million Cook Co. Illinois lawsuit that looks like an awful lot like an EXTORTION SCHEME?
See also:
UPDATE:
posted by the Editors
Tags: Abdul Latif Mahjoob / ACTI / AREC / AREI / ARTI, ACF Leasing, ACF Services, All Nations Energy Alliance LLC, Alliance Construction & Design / Alliance GC (Global Conservation), American Combustion Technologies Inc. (ACTI) / American Combustion Technologies of California Inc. (ACTI) / American Renewable Energy Inc. (AREI) / American Renewable Technologies Inc. (ARTI), American Recovery & Reinvestment Act / ARRA, American Renewable Energy Corp., Artley Skenandore Jr. / Swakweko LLC, Atty. Carl Artman, Atty. David Stellpflug, Atty. Joe Nicks / Godfrey & Kahn, Atty. Mark Bartels / Stellpflug Law SC / SC Acquisition Co. LLC, Atty. Michael J. Kirschling / Stellpflug Law SC, Atty. William Cornelius, Bay Bancorporation, Bay Bank, Bruce King, Cheyboygan Biofuels & Energy, City of Green Bay, City of Green Bay Common Council, David J. Wolf / JWR Inc., David Van Den Heuvel / President of VHC Inc., EB-5 Foreign Investors Program, EB-5 Immigrant Investors Program, EcoHub Wisconsin LLC / formerly known as Green Box Wisconsin LLC & Green Box NA Wisconsin OP LLC, Environmental Advanced Reclamation Technology HQ / E.A.R.T.H., Environmental Systems Technology & Research / ESTR Inc., Eric Decator / Counsel & Part-owner Generation Cean Fuels LLC aka Arland Clean Fuels, Fmr. OBC Chair Cristina Danforth / Tina Danforth, Fmr. OBC Chair Ed Delgado, Fmr. OBC Chair Rick Hill, Fmr. OBC Sec. Patty Hoeft, Gene Keluche / Sagestone Management, Generation Clean Fuels, George Longo / Green Detroit Regional Center / Piper Jaffray / Raymond James, Glen Arbor LLC, GlenArbor Capital, GlenArbor LLC, GlenArbor Partners Inc., Godfrey & Kahn, Green Bay Mayor Jim Schmitt, Green Bay Renewable Energy LLC / GBRE, Green Box NA Detroit LLC, Green Box NA Green Bay LLC, Green Box NA LLC, Green Box Wisconsin LLC, Green Detroit Regional Center, Hinkfuss Sickel Petitjean & Wieting, IEP Development LLC, Incinerators / Gasification / Pyrolysis / Plastics-to-Oil / Waste-to-Energy, J.B. Van Hollen, Jacqueline Zalim / Jackie Zalim, Joseph Kavan, Kathy Hughes, Kelly Van Den Heuvel / Kelly Yessman, Kevin Cornelius, Leah Sue Dodge, Leonard & Finco Public Relations Inc., Louis Stern, Louise King Cornelius / Oneida Casino General Manager, Marc Hess / MH Resources Corp., Mark Verhaagh, Michael Flaherty / President & CEO Generation Clean Fuels aka Arland Clean Fuels, Michael Galich, Mike Debraska, Mike Metoxen, Mission Support Services Nevada LLC / Mission Support Services LLC, Nancy Stellpflug / Secretary of VHC Inc., Nathan King, Native American Bank NA / NABNA, Native American Financial Officers Association / NAFOA, Nature's Way Tissue Corp., OBC Chief Counsel Jo Anne House, OBC Deputy Chief Counsel James Bittorf, One Law Group SC / formerly dba Stellpflug Law SC, Oneida Casino, Oneida Energy Blocker Corp., Oneida Energy Inc., Oneida ESC Group LLC / OESC, Oneida Nation of Wisconsin / Oneida Tribe of Indians of Wisconsin / Indian Country / Thornberry Creek LPGA Classic, Oneida PR Director Bobbi Webster, Oneida Seven Generations Corporation / OSGC, Oneida Total Integrated Enterprises / OTIE, OPD Lt. Lisa Drew Skenandore / Lisa Skenandore, Owen Somers / Oneida Internal Security Director, P2O Technologies, Paul Linzmeyer, Paul Piikkila, Pete King III / King Solutions LLC, Reclamation Technology Systems LLC (RTS) / formerly dba Environmental Advanced Reclamation Technology HQ LLC (E.A.R.T.H.) & Nature's Choice Tissue LLC, Roger Knight, Ron Van Den Heuvel, Shannon Loeve, Sovereign Finance, Spartan Inc., Sr., Stephen A. Smith / President and CEO of GlenArbor Partners Inc., Steven Peters, Susan Finco, Sustainment & Restoration Services LLC, Terry Gaouette, The Louis & Franziska Stern Famly LLC, Todd Parczick, Todd Van Den Heuvel, Tom Perock / Alliance Construction & Design, Tracey LeBeau, Tsyosha?aht Cathy Delgado, Ty Will Law LLC, Ty Willihnganz, U.S. Citizen & Immigration Services / USCIS, U.S. Dept. of Energy, U.S. Dept. of Interior, Van Den Heuvel Holding Company Inc. / VHC Inc., WI Gov. Scott Walker, Wisconsin Economic Development Corporation / WEDC, Yvonne Metivier
Filed under: Business, Economy, Environment, Fmr. OBC Chair Cristina Danforth, Fmr. OBC Chair Ed Delgado, General Tribal Council, Green Bay Renewable Energy, Health, Incinerators / Pyrolysis / Gasification / Waste-to-Energy, OBC Vice-Chair Brandon Stevens, Oneida Business Committee, Oneida Energy Inc., Oneida Nation of Wisconsin / ONWI / Oneida Tribe of Indians of Wisconsin, Oneida Seven Generations Corporation, Oneida-Kodiak, OTIW / ONWI, Safety & Welfare