Cheating The U.S.
30th
April 2014

Closed
Starting today through tomorrow, April 30 – May 1, 2014, there will be a 'Heating the Midwest' conference held at the Radisson Hotel and Conference Center, Green Bay, WI.
But, as the brochure itself shows, this Expo is primarily a scheme to promote trash and waste incineration as being somehow 'clean,' 'green,' 'renewable,' and 'recycling,' the very thing which the Oneida General Tribal Council voted almost a year ago on May 5, 2013 to prohibit Tribal corporations from conducting on the Oneida Reservation.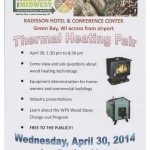 Based on the event flyer (the image furthest to the right above) one would think that this conference is mostly about upgrading wood burning stoves to meet new EPA standards.
According to EPA ordinances and regulations proposed earlier this year:
On January 3, 2014, EPA proposed revisions to the residential wood heater new source performance standards (NSPS) under Section 111 of the Clean Air Act. The draft revisions apply to new heaters ONLY and do not apply to existing wood stoves and other wood heaters installed in peoples' homes. Go to www2.epa.gov/residential-wood-heaters to review and comment on the proposed revisions before final standards are issued. EPA will accept written comments for 90 days after publication of the proposal in the Federal Register.
As Oneida Eye has stated previously we are concerned about attempts by corporations to target Native American tribes with commercial biomass incineration, and as such we are dismayed at recent attempts by the Oneida Environmental Department to promote biomass incineration.
In reality this Expo is an attempt to exploit a current loophole in EPA regulations about what is 'waste' and what is 'trash' which allows companies to incinerate pre-consumer 'waste' without the notice to the public and the regulatory emissions standards that apply to the incineration of post-consumer 'trash.'
One of the Tuesday April 29, 2014 pre-conference tours was of Greenwood Energy, Green Bay, WI, which appears to have been registered with the Wisconsin Dept. of Financial Institutions as Greenwood Fuels WI, LLC:
What does Greenwood do? They take pre-consumer 'non-recyclable waste' and turn it into pellets to burn in boilers to power the companies that create the pre-consumer 'non-recyclable waste' and do so, thanks to an EPA loophole, without having to face the same toxic emissions regulations that post-consumer waste incinerators would face.
Here's their cheery video showing their process as funded by the Wisconsin Economic Development Corporaton, the same quasi-public group that helped fund Oneida Seven Generations Corporation's incineration schemes:
Why would Greenwood Energy choose the site of the very location where GTC voted against these kinds of waste/trash incinerator schemes? Perhaps because they want to try to trick people into believing that the defeat which they and their ilk were dealt there by GTC isn't final and that they can somehow seduce GTC into supporting unregulated incineration and toxic dispersion.
As if.
Unfortunately, the Environmental Protection Agency created a loophole that says something along the lines of this: If Doritos bags have misprints and those bags are turned into pellets and burned for energy before they're filled with chips and sold to the public, those pre-consumer bags aren't considered 'garbage' but are instead considered a form of 'renewable' energy that can be incinerated without notice to the public and without environmental monitoring, and for which the manufacturer can receive tax credits. If those same Doritos bags are used to package chips and sold to the public the discarded bags suddenly become 'garbage' and the incineraton of those post-consumer Doritos bags must be noticed to the public and the emissions created by their incineration must be monitored.
Did you catch that sleight-of-hand? Snack bag material that is never filled with snacks and not sold to the public is a tax-credit worthy 'fuel source' that can be incinerated with no regulations of its emissions, but the same snack bag material once used and discarded by a consumer now faces regulations about the toxins its incineration creates. Abra-freaking-cadabra!
In doing so the EPA is cheating the U.S. by allowing the toxic incineration of waste and rewarding companies for burning garbage rather than requiring companies to only manufacture recyclable packaging.
Fortunately, a lawsuit has been filed against just this type of nonsense.
April 29, 2014
Washington, D.C. — Groups filed a brief in federal court to challenge the U.S. Environmental Protection Agency's creation of a loophole that allows industrial polluters such as cement plants, chemical plants, and paper mills to burn tires, demolition waste and wide variety of other industrial wastes without controlling, monitoring, or reporting the toxic pollution that results.
The groups's brief, filed April 28 in the U.S. Court of Appeals for the District of Columbia Circuit, explains that EPA's loophole circumvents both the Resource Conservation and Recovery Act and the Clean Air Act. The Resource Conservation and Recovery Act makes clear that because materials like tires have been discarded they are waste, and the Clean Air Act makes clear that all facilities that burn any waste material must meet strict emission standards, must monitor their emissions, and must report those emissions to the public.
"How can you have plants burning waste and releasing toxins into the air and the rest of us being told that basically no regulation and no monitoring is necessary? Garbage is still garbage, whether it's thrown in a landfill, discarded in a river or burned," said Seth Johnson, Earthjustice associate attorney. "Communities should know what toxins they're being exposed to."
The lack of protective control and monitoring requirements are a significant public health concern, according to the groups that filed suit.
Tires contain noxious substances, like sulfur, lead and chlorine-containing compounds that can form dioxins when burned. Dioxins are carcinogens that can cause reproductive and developmental problems. Lead, a neurotoxin, can cause brain, blood and nervous system disorders.
ADDITIONAL FACTS:
Under the Non-Hazardous Secondary Materials rule, tires, used oil, and wood from construction and demolition materials, which can contain plastics and metals, can be burned in cement plants and in industrial power plants and heaters called boilers.
The result of these loopholes means there is:
No requirement of public notice to burn waste at more than 1.5 million facilities nationwide.
More toxic emissions. Ninety-nine percent of industrial power plants not subject to any emissions testing under this loophole.
The EPA previously tried to exempt plants burning these materials and more from being subject to stronger air pollution control requirements in 2004, but those efforts were blocked by the courts. A number of groups that filed the lawsuit said in a joint statement:
"It is shocking that a federal agency whose mission is to guard against threats to human health and the environment would create loopholes that allow industries to burn toxin-filled materials with no real oversight," the groups said. "We should know what our communities are being exposed to, and we rely on EPA to protect our communities from dangerous toxins. We hoped that EPA would do the right thing and stop trying to make an end-run around Congress and weaken public health protection. But it hasn't, so we're turning to the courts to hold EPA accountable to the law."
— Huron Environmental Activist League, Louisiana Environmental Action Network, Environmental Integrity Project, Clean Air Council, Partnership for Public Integrity.
In this lawsuit, Earthjustice represented: Louisiana Environmental Action Network, Environmental Integrity Project, The Partnership for Public Integrity, The Sierra Club, Montanans Against Toxic Burning, Downwinders At Risk, Desert Citizens Against Pollution and Clean Air Council.
From the Earthjustice Brief:
PRELIMINARY STATEMENT
This case challenges EPA's effort to deem various solid wastes to be non-wastes, so that facilities which choose to burn them do not have to control, monitor, or report the resulting emissions. The newly excluded "non-wastes" include materials that produce especially toxic pollution when they are burned: whole tires, construction and demolition debris, debris from paper mills, and used oil, to name just a few.  …
STATEMENT OF ISSUES
Though RCRA [Resource Conservation and Recovery Act] and the Clean Air Act make "discard" the sole criterion for determining if a material is solid waste, not whether the material is burned as fuel, EPA defined solid waste to exclude materials like scrap tires and "clean" construction and demolition wood when those materials are burned as fuel. EPA's definition also allows discarded material to be burned without being considered solid waste if it was "sufficiently processed" and satisfies certain conditions.
1. Does EPA's definition violate RCRA by
a. Excluding materials that are discarded?
b. Excluding discarded materials that have been processed?
2. Does EPA's definition violate the Clean Air Act and frustrate Congress's purpose in linking RCRA and the Clean Air Act into a comprehensive regulatory scheme?
3.  Is EPA's definition an unreasonable interpretation of RCRA and the Clean Air Act and arbitrary? …
SUMMARY OF ARGUMENT
EPA's definition of waste excludes materials that are "discarded" within the ordinary meaning of that term. It also excludes materials that "discarded" within the ordinary meaning of that term. It also excludes materials that are undisputedly discarded by then "processed" and burned as fuel. These exclusions contravene RCRA, which defines the term "solid waste" to include "any" discarded material, and this Court's precedent, which makes clear that once-discarded materials remain solid waste regardless of whether they are subsequently processed and burned as a fuel.
EPA's exclusions also defeat Congress's purpose in linking RCRA and the Clean Air Act with a common definition of solid waste. Rather than promulgating a single definition that would support a coherent statutory scheme, EPA has promulgated a definition for Clean Air Act purposes that conflicts with the definition it uses under RCRA.
Further, this new definition turns primarily on whether or not a material is burned for energy – a distinction that is irrelevant under the Clean Air Act. The Clean Air Act recognizes that the emissions from waste-burning are just as dangerous whether or not the waste is burned for energy; as this Court has already held, the Act's incinerator provisions apply to energy-recovery units and non-energy recovery units alike. Rather than harmonizing RCRA and the Clean Air Act, EPA reads RCRA in a way that effectively recreates its unlawful exemption from energy-recovery units and defeats Congress's intent to protect the public from the toxic emissions that waste-burning produces. EPA's reading also renders language in the Clean Air Act insignificant, if not superfluous[.]
Finally, EPA's rationale for the exclusions is riddled with internal contradictions and non-sequiturs. For example, EPA rejected comments urging it to consider the Clean Air Act in developing its definition of solid waste, but relied solely on the Clean Air Act to determine what count as "contaminants" that can render a material discarded rather under the definition. Elsewhere the agency claims that because fewer scrap tires are being sent to dumps, fewer tires are being discarded – conveniently ignoring its own assertion that tires are discarded if they are discarded "to the first instance," regardless of whether they are subsequently dumped or burned. EPA's failure to provide a rational and internally consistent basis for the exculsions is unlawful and arbitrary.
Corporate polluters will always try to find ways to deceive the public into believing incineration is a magical way to cleanly turn waste/garbage into energy/money, which is why tribes and the general public must be vigilant always when it comes to toxic smoke & mirrors schemes.
 See also: Waukesha County Environmental Action League (WEAL) comments on a proposed Recommendation for End-of-Life Management of Hard-to-Recycle Plastic Film
posted by the Editors
Tags: Earthjustice, Environmental Protection Agency / EPA, Greenwood Energy, Greenwood Fuels
Filed under: Court, Environment, Health, Incinerators / Pyrolysis / Gasification / Waste-to-Energy, Law, Resources, Safety & Welfare, Tribal Energy