Election Shenanigans & Tina Danforth's Bad Business Omissions [UPDATE]
26th
April 2014

Closed
The sample ballot for the May 10, 2014 Primary Election has been posted to the Oneida Tribe's Facebook page, but Dale Wheelock's name is missing from the list of Business Committee Secretary candidates, despite the fact that he accepted his nomination by Lou Ann Green at the April 12, 2014 Caucus, and yet the name of Leyne Orosco who was not nominated at the Caucus, but instead filed a petition afterwards, is listed.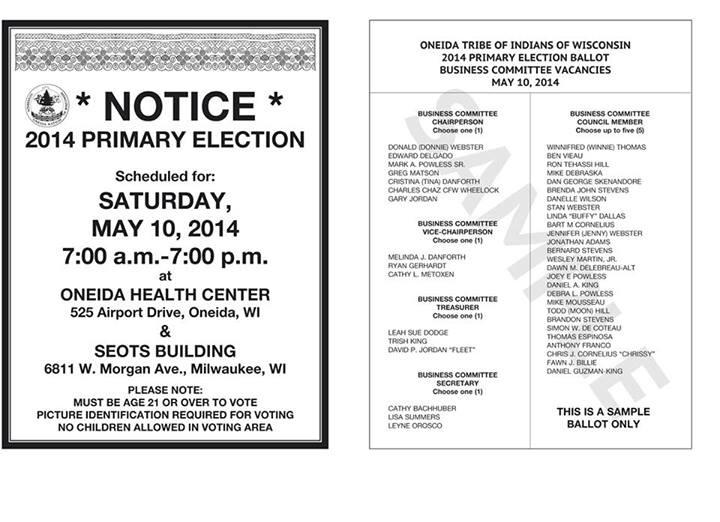 Leyne Orosco also just happens to currently be the Executive Assistant of current Council member David 'Fleet' Jordan who was the first person nominated at the caucus to again run for Council member, but apparently Fleet later turned in a petition to be a candidate for BC Treasurer. Hmm.
At the same time, even though current Treasurer Tina Danforth accepted her nomination at the caucus to again run for Treasurer, Tina later submitted a petition for the position of BC Chair, and is said to have done so with minutes to spare before the deadline for petitions.
Somehow Fleet's & Tina's (co-ordinated?) last-minute switcharoos were included in the sample ballot, but Dale Wheelock was strangely omitted.
[UPDATE:  Oneida Eye has learned that Dale Wheelock did not submit an application to the BC Secretary's office during the five-day period following the caucus as required by the Election Law: 2.5 Candidate Eligibility; 2.5-4. Applications and petitions where the applicant was not nominated during caucus shall be filed by presenting the information to the Tribal Secretary, or designated agent, during normal business hours, 8:00 to 4:30 Monday through Friday, within five (5) business days after the caucus. No mailed, internal Tribal mail delivery, faxed or other delivery method shall be accepted. We do find it strange, then, that Dale Wheelock was allowed to make a presentation regarding his campaign platform at the April 26, 2014 SEOTS Candidate's Forum in Milwaukee. Secretary Patty Hoeft was present at that forum and apparently did not provide SEOTS with a list of candidates who had met that application deadline with her office and were therefore eligible to be on the Primary ballot.]
Another candidate who petitioned for BC Chairperson is Gary Jordan who is currently overseeing the recovery of unpaid business loans made to Tribe members, including Tina Danforth.
Below are Brown County Court documents filed on March 12 & 13, 2014, in which Paul & Tina Danforth respond to Oneida Small Business, Inc.'s Motion for Summary Judgment.
Apparently Tina Danforth is no longer using a pen to write her own legal filings and has instead hired the law firm of Hinkfuss, Sickel, Petitjean & Wieting. Paul Danforth, on the other hand, appears to be acting Pro Se.
Tina Danforth's Response demonstrates the foolish nature of her objections to paying back money she borrowed in a business loan.
…Defendant [Tina] Danforth has filed an answer contesting the amount the Plaintiff asserts is owned.  The Court should dismiss the Defendant's frivolous motion. …

[T]he Defendants obtained a loan from [Oneida Small Business, Inc.] as evidenced in Exhibit A attached to this motion. The Defendants have failed to make timely payments on this Loan evidenced by the Affidavit of Gary Jordan attached … as Exhibit B [which] makes the Defendants' Motion to Strike Affidavit a non-issue.

Because there are no genuine factual disputes in this case, the Plaintiff demands judgment and requests the following relief without need of a hearing and additional proceedings.

1.  For a money judgment against Defendants, White Eagle Sports Bar and Grill, LLC, Paul F. Danforth and Cristina S. Danforth, jointly and severally in the sum of $55,587.43 plus pre and post judgment interest owing thereon.

2.  A Writ of Replevin for all the property secured by the General Business Security Agreement and Note and;

3.  For costs and disbursement of this action, including reason attorney's fees.
The top of Exhibit A clearly states, "BUSINESS NOTE (Use only for business purpose loans)" and states that the borrower "promises to pay to the order of Bay Bank As Servicer For Oneida Small Business Incorporated…at 2555 Packerland Drive, Green Bay, Wisconsin, the sum of $50,000.00, plus interest on the unpaid principal balance, according to the following schedule: A single payment of the unpaid principle and accrued interest is due and payable on February 18, 2007."
Exhibit B states, "The Defendants have renewed this note on several occasions with the most recent being November 18, 2009."
It seems Tina Danforth thinks she should be able to take out business loans and not repay them, and when she's taken to court she sees no problem in wasting other people's time & money with foolish attempts at getting away with her bad business dealings. (Sounds a lot like her heroes at OSGC.)
Perhaps the most 'outstanding' thing about Tina Danforth is her debt.
In Tina Danforth's handwritten January 31, 2014 Answer to the Plaintiff's Complaint she wrote that she "demands trial by a jury of twelve."
As with current Council member Paul Ninham & Duck Creek Coffee Co., it seems more likely that Tina Danforth will face a summary judgment for her refusal to pay what she owes.
The question now seems to be, what size will the 'jury' be at the Saturday May 10, 2014 Primary Election?
posted by the Editors
Tags: Dale Wheelock, Duck Creek Coffee Co., Fmr. OBC Chair Cristina Danforth / Tina Danforth, Fmr. OBC member Paul Ninham, Gary Jordan, Leyne Orosco, OBC member 'Fleet' David Jordan, Oneida Nation of Wisconsin / Oneida Tribe of Indians of Wisconsin / Indian Country / Thornberry Creek LPGA Classic, Oneida Small Business Inc., Paul Danforth, White Eagle Sports Bar
Filed under: Bay Bank, Business, Court, General Tribal Council, Oneida Business Committee, Petition, Politics