Open Letter To Greg Matson From An Oneida Activist
29th
December 2013

Closed
The following is an open letter to Tribal Vice-Chair Greg Matson from Oneida Tribal member & activist Mike Debraska:
______________________________
December 17, 2013
Mr. Greg Matson
Vice-Chairman​​​​​
Oneida Tribe of Indians of Wisconsin
P.O. Box 365
Oneida, WI. 54155
Sent via E-mail
​RE: Angered Outbursts Immediately After GTC Meeting On December 15, 2013
Dear Mr. Matson:
I am writing to express my concerns over your angered outbursts directed at me immediately following the Oneida General Tribal Council (GTC) meeting on December 15, 2013, and there were witnesses to following statements made by you and they are as follows:
You called Frank Cornelius a "used car salesman" and said he has "conned all of GTC." You then added that Frank and myself "should be held personally and fiscally liable" and should "pay the bills," and that you "stand on the facts." Frank Cornelius told GTC his qualifications and he was and is a highly respected retired Marine Corp. officer. You, on the other hand, seem to have the professionalism, leadership qualities, and effectiveness of a drunken crack addict with multiple personality disorder.
How and why Frank Cornelius and I should be personally and fiscally liable was never discussed by you. I can only take that to mean you have no idea either but rather your idiotic statement was merely an excited utterance of stupidity, or – as I refer to it in your case – situation normal.
And exactly what facts were you willing to stand upon? That Oneida Seven Generations Corp. (OSGC) has and continues to hide information from GTC and will not produce it? Or is it the fact that Oneida-Kodiak Construction and Alliance were conveniently left out of the financial analysis performed by our CFO? Or is it the fact that several LLC's were conveniently left out of the financial analysis as well? Or is it the fact that you and the rest of the Business Committee do not have all the information or are being lied to and manipulated by OSGC and its subsidiaries? Or is it that you or your family may have direct involvement with OSGC in some or all of its subsidiaries? IF you and your family are involved, are you getting paid from OSGC and its subsidiaries as well? IF GTC demands a thorough investigation that will ferret out all that information we seek and show who is really lying and who is telling the truth, will you or anyone else on the Business Committee try to prevent or interfere with an investigation as well? Where are the Corporate Laws GTC has been asking for to protect our interests?
By now you should be getting the point and that is if you did know and took no steps to correct any of it, you are as guilty as those who seek to financially plunder this tribe and its resources. If you did not know, that makes you incompetent at best and retarded at worst. Therefore, you should not be surprised or angered why GTC took the action and necessary steps we did!
Your mental state as an elected official is now in serious question. Perhaps you should seriously consider several trips to Oneida Behavioral Health for multiple 'anger management' sessions or begin taking antipsychotic medication. You should view either or both as therapeutic and not a stigma. There is and should be no shame in admitting to yourself that you have problems. That is considered the first step to self-healing and non-hostility or rage as an expression. And I have been hearing that I am not the first person in the community you have treated this way either. It seems to be an ongoing epidemic with you. I also heard you keep a baseball bat in your office—if that is true, I am unsure if it is amusing or deadly serious with you?
Also, next time I suggest you not hide behind an Oneida Police Officer when making such ludicrous statements, otherwise they may be hauling you off in a padded truck, not just for your own good but mine and the Nation's as well.
I expect a written and professional response to my concerns in a civil tone. If I do not receive a response in a timely manner on how you propose changes and apologize for your angered outbursts, I will send a copy of this letter to the press in Green Bay and Milwaukee as well as posting it on the Oneida Eye and let the communities and individuals judge for themselves what kind of a person you truly are. I will also tell them how you treat elder veterans and community activists who have forgotten more than you will ever know.
Respectfully,
Michael Debraska
Oneida Advocate
cc: Oneida Business Committee Members
Frank Cornelius
Community Activists
______________________________
NOTE: Oneida Eye does not expect Greg Matson to be capable of explaining his illogical & angry outbursts nor do we expect him to be willing to apologize for them, including to those whose boots Greg isn't fit to spit shine.
However, Oneida Eye was able to obtain secretly recorded infrared surveillance of Greg Matson's thought process and we make it available as a public service.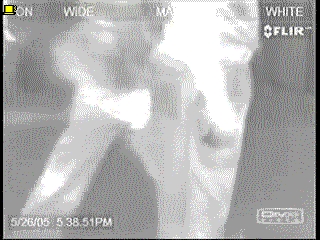 posted by the Editors
Tags: Oneida Nation of Wisconsin / Oneida Tribe of Indians of Wisconsin / Indian Country / Thornberry Creek LPGA Classic
Filed under: General Tribal Council, Oneida Business Committee, Oneida Seven Generations Corporation, Opinion