Emergency Furlough Policy & Cost Containment
15th
October 2013

Closed
In the wake of the federal government shutdown the Oneida Business Committee has passed the following resolution regarding an Emergency Furlough Policy:
The new policy states in part:
V. General Information
5-2. Employees placed on furlough shall not be separated from the Oneida Tribe. Employees are strictly prohibited from performing any work on a furlough day. This includes responding to work-related e-mail and voice mail.
5-4. No overtime and or additional pay shall be approved as a result of a furlough.
5-5. All authorized miscellaneous deductions shall no longer continue to be paid and shall be the responsibility of the employee. These include, but are not limited to: charitable contributions, payroll deductions for Tribal purchases, and child support.
5-6. Eligibility for unemployment insurance benefits is determined by the State of Wisconsin. Under the State of Wisconsin Unemployment Compensation Act, partial unemployment benefits are sometimes payable to employees during periods of time when hours are reduced. The employee shall be responsible for contacting the State of Wisconsin Unemployment Department to determine if they qualify. However, employees using one day of furlough leave in a pay period will generally not qualify for unemployment. The Tribe shall not deny a request for unemployment compensation for leaves of absence due to furlough.
5-7. Employees placed on furlough shall not be eligible for back pay awards upon return to regular duty.
Article VII. Appeal
7-1. An employee placed on furlough does not have the right to appeal such a decision under any Tribal law, policy, or the personnel grievance process.
The BC also passed a resolution regarding Cost Containment & Spending Restrictions:

The details of the resolution, and other cost containment measures are spelled out on the Tribe's website:
Oneida Transit  – Effective October 13, 2013 until further notice*
Transportation services are limited to medical, employment, education and Elders (Dodo bus.)
Limited shopping transportation – only available when no demand in other categories
GTC meeting transportation changes: no pre-scheduled pick-ups or drop offs, no parking lot shuttles.
No transportation on holidays recognized by the Tribal organization
No social transportation provided until further notice*
Food Distribution – Effective October 2, 2013 until further notice*
Canned goods will be distributed while supplies last.
Perishable foods are not available until further notice.*
Oneida Community Health Center – Effective October 2, 2013 until further notice*
Referrals for outside services are limited to health issues that threaten life, limb or senses.
Medication dispensed by the Oneida pharmacy is limited to a 30-day supply
No Over-the-Counter medications will be dispensed unless deemed necessary by the health provider
Referrals for in-patient drug and alcohol treatment are suspended. Only outpatient services are provided until further notice.*
Available medical, dental and optical providers may decrease.
*
 Once the Federal government's partial shutdown is resolved, services will continue to be impacted until the federal services are caught up and back to normal.
Cost Containment Resolution
The Oneida Business Committee adopted a cost containment resolution on October 9, 2013 to manage the impacts of the partial shutdown. In summary, the resolution:
Implements a hiring freeze except in cases where safety, health or regulatory situations may require the position be filled.
Suspends wage increase except for employees completing their probation. The FY2014 wage increase will go into effect in January, 2014, and includes retro-active pay beginning October 1, 2013.
Eliminates all overtime except in cases where safety, health or regulatory situations require overtime.
Eliminates all travel except for government and legislative officials traveling for governmental/legislative business.
Delays all non-emergency consultant agreements unless required by General Tribal Council directive.
Suspend all capital expenditures except for s safety, health, or regulatory situations.
Eliminate all external donations and sponsorships.
Suspends capital improvement projects except for the Casino Expansion and projects funded by Retail Revenue Bonds.
Eliminates all non-essential, non-emergency expenditures that will not affect human safety.
Please see the resolution for more information about measures that will take effect if the shutdown continues after October 30, 2013.
As Oneida Eye reported previously, one person who it seems should be let go immediately is recently hired 'Staff Attorney' Lati Hill whom it seems is possibly not an attorney at all and may be in violation of Wisconsin State Statute 757.30, Penalty for practicing without license:
Here is a copy of Lati Hill's Tribal 'Contact Listing' which states that his 'Job Description' is 'Attorney':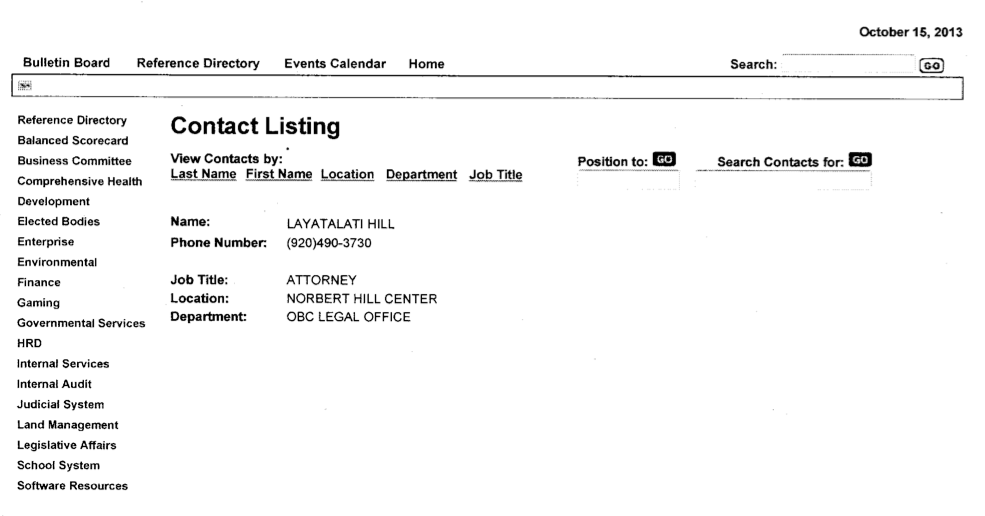 Council member Vince DelaRosa has stated that he had asked Chief Counsel Jo Anne House about this matter "at the hire point."
It seems impossible that Jo Anne House didn't know that for Lati Hill to claim to be an 'Attorney at Law' without having passed the State Bar exam was illegal given the situation involving Diane House:
It's interesting to note that Lati Hill's 'temporary' status is slated to last through February 28, 2013 and that he's reported to be taking the Wisconsin State Bar license exam in February.
Did Chief Counsel Jo Anne House gamble that if Lati Hill passed the exam he could be brought on as full-time staff and if he failed (again?) he could be let go in the hopes that Oneida Tribe members would be none the wiser?
If Jo Anne House knew that Lati Hill did not have a license to practice law in the State of Wisconsin and she in any way advocated, encouraged, condoned or conspired with others to facilitate the hiring of Hill as a Staff Attorney, then Chief Counsel House needs to be removed immediately because she was using her position to participate in a criminal conspiracy.
Chairperson Ed Delgado has an obligation to protect the Tribe from a Chief Counsel that does not know or understand the law, or abuses her office and intentionally betrays the Tribe and breaks the law.
In other words, Jo Anne House needs to go.
posted by the Editors
Tags: Diane House, Fmr. OBC Chair Ed Delgado, Fmr. OBC member Vince Dela Rosa, Lati Hill, OBC Chief Counsel Jo Anne House, OBC Law Office / OLO, Oneida Business Committee / OBC, Oneida Nation of Wisconsin / Oneida Tribe of Indians of Wisconsin / Indian Country / Thornberry Creek LPGA Classic
Filed under: Law, Oneida Business Committee, Oneida Law Office, Oneida Nation of Wisconsin / ONWI / Oneida Tribe of Indians of Wisconsin, OTIW / ONWI