$3 Million Bonus Question
8th
October 2013

Closed
Many Oneida Tribe members are now feeling the pinch from the curtailing of health services due to the Federal Government shutdown.
This letter in the October 3, 2013 issue of the Kalihwisaks lays it out: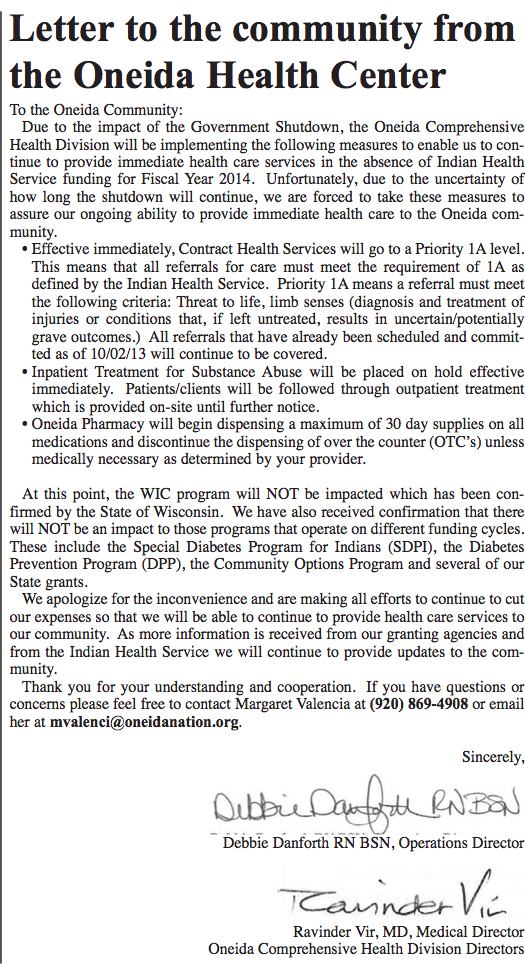 What it doesn't explain is that the Tribe's contribution to Contract Health is $2 million dollars per year, but the Health Center requires about $67,000 per day to operate, which means about 29 days of operability with no Federal dollars coming in.
The letter doesn't address the fact that there will supposedly be no layoffs for the roughly 480 grant-funded Tribal positions despite the fact no grant monies will be coming in during the shut down.
It doesn't explain whether or not Debbie Danforth's reported $1,000 monthly stipend to access medical records after hours will continue.
The letter also fails to mention reports that $3 million is currently ear-marked for Health Center staff bonuses.
These are all points that need to be raised at the Wednesday October 9, 2013 Business Committee Regular Meeting.
posted by the Editors
Tags: Debbie Danforth, Dr. Ravinder Vir, Oneida Contract Health, Oneida Health Center, Oneida Nation of Wisconsin / Oneida Tribe of Indians of Wisconsin / Indian Country / Thornberry Creek LPGA Classic
Filed under: Oneida Health Center, Oneida Nation of Wisconsin / ONWI / Oneida Tribe of Indians of Wisconsin, OTIW / ONWI